Museum Conservation Services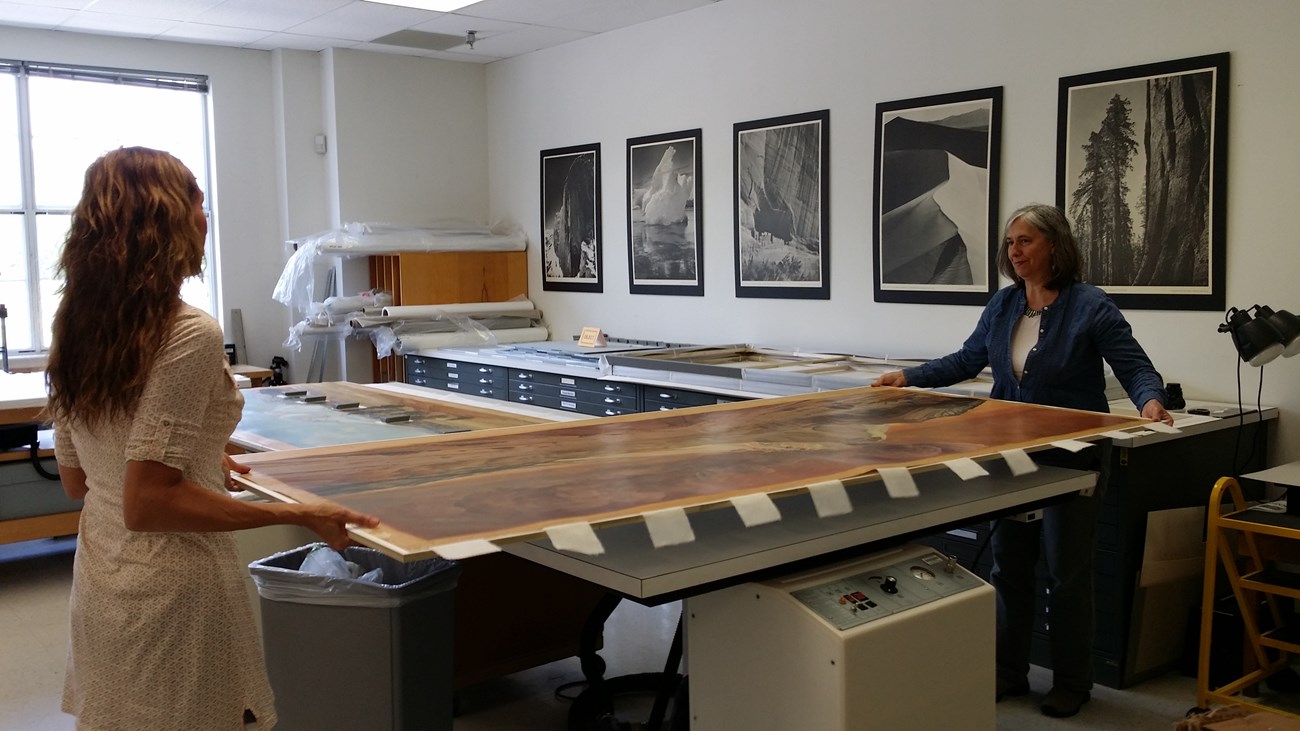 Harpers Ferry Center's conservators provide professional conservation services for National Park Service (NPS) museum collections from parks across the U.S. and its territories. These services include object treatments, on-site assessments, exhibition and preservation planning, emergency response, and training.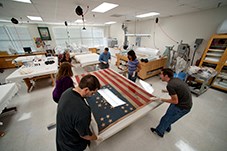 Laboratories
The six conservation laboratories at HFC offer the most diverse range of specialties in the NPS and can provide treatment for the following materials: textiles, books, paper/parchment, wooden artifacts, metals, mechanical objects, natural history specimens, leather, ceramics, glass, and plastics. Support spaces for the labs include a wood shop, metal shop, air abrasion room, spray booth and a photography studio.
Please Note: HFC's conservation labs are not open to the public on a regular basis, but group tours can be arranged depending on the nature of the request.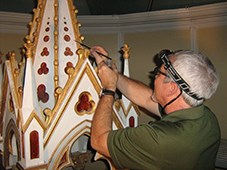 Treatment
Object treatments vary from surface cleaning and completing minor repairs to major conservation efforts. Conservators regularly test media, adhesives, chemical residues, and other materials before treatments begin to ensure proposed treatment steps are safe for the objects. Written reports and digital images document all work. See examples of HFC treatments.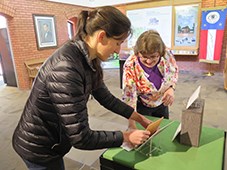 Preventative Care
Much of the work that HFC conservators do helps prevent the need for an object to be treated. Preservation strategies are most efficient at the collection level and include proper handling and physical security; controlling temperature, relative humidity, and light; excluding insects, food, and live plants from storage and exhibition areas; good housekeeping practices; and rotating sensitive objects off exhibit. The conservators provide recommendations, training, and on-site help in these areas to NPS staff in the field.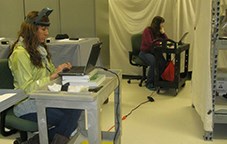 Preservation Planning
Planning is important for long-term care of collections, identifying needs, and justifying funding to correct deficiencies. HFC conservators often travel to parks to write museum plans such as Collection Condition Surveys, Collection Management Plans, Housekeeping Plans and IPM Plans.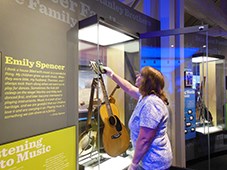 Exhibit Development
The conservators work with HFC exhibit staff, NPS curators, cultural resource specialists, historians, interpreters, facility staff, and others to develop and upgrade exhibits in park visitor centers and museums. Conservators may treat objects used in exhibits and also ensure the methods and materials used to design and build exhibit cases are appropriate for the objects. They provide standards for temperature, relative humidity, and light levels to protect the objects on display, install objects in the exhibits, and recommend timeframes for exhibition of sensitive objects.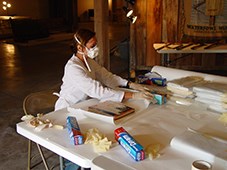 Emergency Response
Whether it's a burst pipe, a broken air conditioning system or natural disasters such as hurricanes, floods, fires and tornadoes, the NPS relies on its conservators to save damaged museum collections. HFC's conservators provide advice and on-site response, evaluating the effects of the disaster on collections. They plan for recovery, salvage collections, treat objects, and assist with reestablishing stable storage environments for preservation of the recovered objects. See examples of HFC disaster response.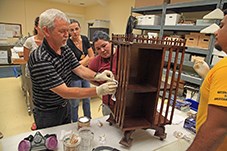 Training
HFC's conservators provide hands-on training and classroom instruction to NPS and other Department of the Interior museum staff in preventative conservation techniques and when appropriate basic treatment steps. Conservators also present their work at professional meetings and publications and author publications such as NPS Conserve O Grams.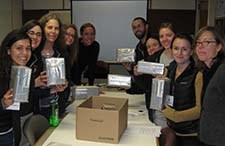 Cold Storage
HFC conservators were instrumental in the development and implementation of the NPS Cold Storage Project. This project focused on the storage of the cellulose acetate films in museum collections (slides, 4"x5" negatives, 35mm film strips, motion picture films, etc.) In addition HFC conservators developed Conserve O Grams specific to this topic:
Getting Help for Your Objects
HFC Conservators only work on NPS and other government museum collections. For assistance with these collections or to ask a general conservation question please visit the NPS Museum and Architectural Conservators Common Learning Portal.

Members of the public looking for a conservator to treat private collections or family heirlooms can search for one through the American Institute for Conservation of Historic and Artistic Works (AIC) Find a Conservator Program.

Learn more about caring for your objects through the NPS's free Conserve O Gram series.
Learn More About the Museum Conservation Programs
The NPS has conservators at other labs around the country. Learn more by contacting:
Last updated: May 1, 2023