Dressing the Part: A Portfolio of Women's History in the NPS

Broad-brimmed flat hat. Gray shirt. Green pants. A badge. These are the basics of the iconic park ranger uniform.
But do the clothes make the ranger?
For women in the National Park Service (NPS), the answer is complicated—and involves a 60-year journey just to get back to where they started.
Using This Portfolio
"Dressing the Part" aims to tell the almost endless stories of NPS women through a series of web pages, articles, and other features added over time. Here are some hints on the best ways to enjoy this resource:
Explore the themes and articles On This Page for an overview of the history of NPS women and learn how the ranger uniform was a key factor is women's equality within the bureau.
Get to Know NPS Women through our collection of women's cartes-de-visite (CdVs)—a modern twist on historic photographic calling cards.
Delve more deeply into the lives, characters, and careers of NPS women as you read Their Stories.
Visit the Accessorize! section for a lighter (and often surprising) take on how the "accessories" worn as part of the ranger uniform reflect issues of equality for women.
Browse our Photo Gallery where we've posted hundreds of photos of NPS women and examples of the uniform through time.
Enjoy some Fun and Games by taking our quizzes or printing your own poster, bookmarks, and coloring pages.
Go By the Book for deeper dives into the history of women in the NPS. Want something lighter to read? We've got you covered there as well with examples of fiction written by NPS women.
Give credit where it's due! We couldn't create the Portfolio without a lot of help from all those involved.

Share your own NPS women's stories, photographs, and perspectives by contacting the archivist.
Check back for updates and new sections as more women tell their stories, additional histories are written, and new perspectives emerge.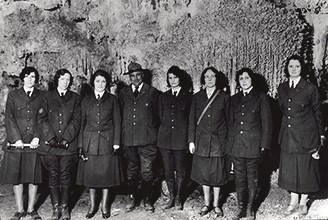 Coming Full Circle
There are a handful of Women Who Were There, working for national parks before the establishment of the NPS on August 25, 1916. However, throughout the bureau's history, there have always been fewer women in uniformed positions than men. In fact, Yellowstone National Park could only identify 18 women who wore the uniform there in the four decades from 1920 to 1960!

Contrary to popular belief, the first official uniform regulations for the NPS, issued in 1920, applied to both men and women. The history of how women were disenfranchised from the standard NPS uniform in the late 1920s and 1930s is entwined with early efforts to protect the "ranger image" and deliberate attempts to redefine some jobs as "manly."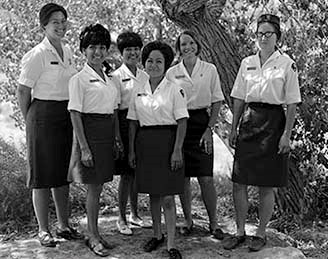 World War II brought change to American society and workplaces. There were fewer opportunities for women in the NPS during the war, however, than in other industries, particularly when it came to uniformed ranger positions.

New uniform regulations for women in the 1940s redefined the earlier ones as having been for men only. Hailed by many as a step forward, the separate women's uniforms actually further entrenched limited roles for women in the NPS. A relatively small number wore the women's uniforms in the 1950s but the public visibility of women in national parks was increasing.

More women were hired for uniformed positions in the 1960s when the NPS "rediscovered" what it learned in the 1920s: that women make great interpeters. The style of those uniforms reflected the limited types of jobs women were allowed to do.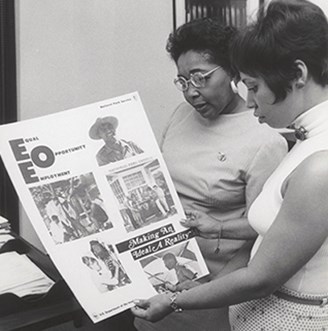 Ironically, as women across the United States sought greater opportunities and equal rights in the 1970s, the designs of the women's uniform became the most dissimilar to the iconic park ranger uniform. Although change began for some women in 1974, it wasn't until the end of that decade—and thanks to legal action—that women were finally authorized to wear the standard NPS uniform again.
The NPS uniform encompasses a broad history of inequality, marginalization, and exclusion, but it also reflects a search for equal rights and fulfilling career opportunities. In this online portfolio, the uniform is a common thread to stitch together these histories while examining some myths and misconceptions and sharing both the ordinary and extraordinary experiences of NPS women—with or without a uniform.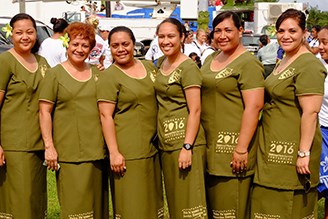 Many Voices, Many Experiences
Experiences in the NPS are as unique as the women themselves. Like those in broader American society, women working for the NPS have experienced opportunities and obstacles, tolerance and prejudice, and inclusion and discrimination. Some have experienced gender bias, harassment, and, at its most extreme, even assault at work.
The historical contexts and personal experiences shared here can't possibly represent all women's experiences, or points of view, in the NPS at any one time, much less over the past century. We make a concerted effort to find and share multicultural stories. Where they are missing, they may be under development, there may have been a lack of general diversity in the NPS at that point in time, incomplete records, or simply unknown histories yet to be told. Women's careers in the NPS are still being lived, and much work remains to be done to gather, understand, and share those experiences.
Standing on their Shoulders
Although there were efforts to document the history of the NPS uniform as early as the 1950s, the NPS first asked individual parks for information about the history of women in uniformed positions in 1961. It wasn't until 1976, however, that sustained efforts to document the broader history of women employees began. Many women (and some men) worked to understand the history of NPS women long before this Portfolio project began.

Although historians and park staff have long documented women's contributions, it was Dorothy Huyck who began the first national project in the NPS to examine women's history from the women's perspectives. She began the research at her own expense but was awarded a contract in 1978 to create a narrative of women's experiences, identify contemporary issues they faced, and propose solutions for common concerns.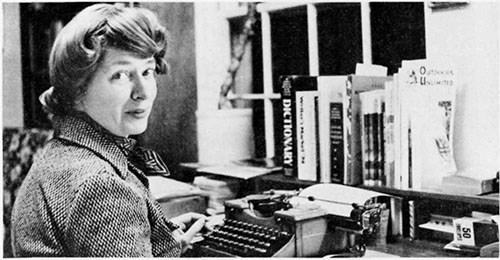 Over the course of the project, Huyck travelled thousands of miles to record interviews with over 100 women and some men, including a wide range of "rank and file" women and notable figures in NPS. Unfortunately, Huyck was unable to complete the project before she died on August 24, 1979. Four days before her death, NPS Director Bill Whalen appointed her an Honorary Park Ranger, promising that her work would continue. The first National Park Service Women's Conference, held in 1979, was dedicated to her memory.
Polly Welts Kaufman was eventually selected to complete Huyck's research. She supplemented Huyck's research notes, interviews, and other materials with her own oral histories and further research. Thirty years after Huyck began her research, Kaufman's book National Parks and the Woman's Voice: A History was published. Both Huyck's and Kaufman's collections of oral history interviews, correspondence, and extensive research notes are now part of the NPS History Collection. Their work continues to inspire and inform. Their materials were used extensively during creation of the Portfolio, particularly when women they contacted are no longer with us.
There is no doubt that Huyck and Kaufman would say that their successes—like any found here in this Portfolio—were possible only because so many women have been willing to share their stories. The largest acknowledgement, therefore, must be reserved for these amazing women. NPS women have shared freely of their time, knowledge, triumphs, and sorrows so that others may understand and learn from their histories. Our hope is that current and future generations will continue to learn from and be inspired by their professionalism, leadership, dedication, perseverance, humor, and courage.



This research was made possible in part by a grant from the National Park Foundation.
Last updated: October 3, 2022