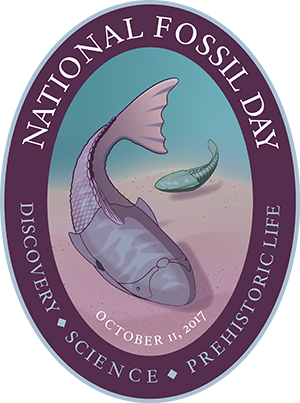 Primitive Fish from Death Valley
The 2017 National Fossil Day artwork depicts a primitive group of fish known as heterostracans ("different shields"). The heterostracans represent an order of early jawless fish which existed between the
Early Silurian and the Late Devonian
when they became extinct (approximately 358 million years ago).
The heterostracans were characterized by an external covering of bony armor plates and by having only one common gill opening on each side of the head region. These early fish lacked any paired or mid-line fins and in many cases developed extensions of the armor plates that were not flexible but helped provide control in the water. Heterostracans lived in shallow marine environments around an ancient continent known as the Old Red Sandstone (ORS) Continent, which was composed of present day North America, the Canadian Arctic, and Western Europe.
The primitive fish depicted in the artwork are based upon fossil specimens discovered and collected in
Death Valley National Park
. Paleontologist David Elliott, from
Northern Arizona University
, discovered these rare fossil fish in a remote locality in the park. The rocks in which the fish were preserved consist of sediments deposited in a channel, which may have been part of an estuary based on the associated marine fossils.