Cave and Karst Art Contest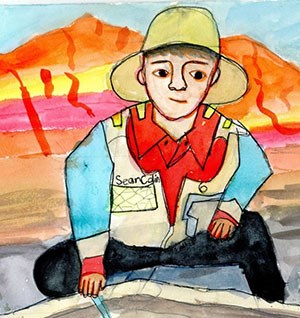 The National Park Service and International Year of Caves and Karst (IYCK) partners are sponsoring an art contest to celebrate the International Year of Caves and Karst in 2021. From January to December the country and the world are celebrating these wonderful natural formations. The theme for the art contest is: "Discover what's under your National Park." We would like contest participants to find a cave site or national park near them and base their artwork on the karst landscapeor caves that lie beneath.
Regional Contests
Participating cave sites and national parks will host a regional contest with the shared theme, "Discover what's under your National Park."
Artwork will be accepted starting February 1st and ending June 12th.
Find a "Participating Cave Site" in the list below and read about their contest.
Follow the Contest Guidelines below to enter one Regional Contest.
The winners of Regional Contests will be announced by the sponsoring park in June 2021. As regional results become available, they will be shared on the event homepage International Year of Caves and Karst 2021—NPS Celebrates!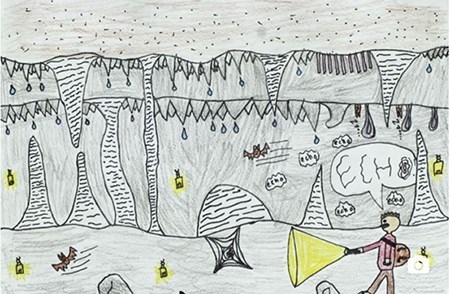 15 PHOTOS
Thank you to everyone who entered the IYCK 2021 Regional Art contests. Thanks also to the cave sites that sponsored a contest in their area. This album contains first place artwork from regional art contests that were forwarded to compete in the National Contest. Judging for the National contest will take place in October, 2021.

National Contest
The Regional Contest winners will automatically advance to the national level. The same piece of art will be sent to the national level and judged. The winners of the National Contest will be announced on the event homepage International Year of Caves and Karst 2021—NPS Celebrates! in September October 2021.
Contest Guidelines
Who Can Enter?
The contest is open to any interested person, of all ages. Entries will be judged based on originality, creativity, and how well the submission addresses the contest theme. You must be a resident of the United States to enter. NOTE: You may only submit one piece of art to one regional contest.
What Should My Artwork Include?
Your artwork should focus on the art contest theme "Discover what's under your National Park" and include some depiction of your national park's the karst landscapes, caves, cave features, or cave-related ecosystems. Some examples of features you might find are:
Solution caves are perhaps the most well-known type of karst landscape. They form when rock such as limestone, marble, or gypsum, dissolve along the faults and leyers. Usually, underground rivers form these caves and speleothems (stalactites and Stalagmites).
Karst is a type of landscape where the dissolving of the bedrock has created sinkholes, sinking streams, caves, springs, and other characteristic features. Karst is associated with soluble rock types such as limestone, marble, and gypsum.
Lava Tubes can form during long eruptions with lava flows that become channelized into streams. Flows that persist for many hours can solidify on the top and sides of the stream, leaving a tube for the liquid lava to flow through. The solidified lava is a good thermal insulator, so the lava flowing inside remains liquid much longer than an exposed flow. Lava tubes can transport lava several miles from an eruption site. After the lava has drained from the tube, a lava tube cave is left. These caves are often big enough for people to walk through and can cover long distances.
The artwork can be in the form of a photograph (black & white or color), a painting, a drawing, or a sketch. You may depict 3D scenes, but all submitted artwork must be 2D and flat.
Questions to Help You Get Started
What are some of the most unique features of your park's cave/karst landscape?
What is your favorite Cave formation?
What animals live in the cave?
How does the karst affect what's above?
How did these landscapes form?
How Large Should the Artwork be?
All artwork should be able to fit inside a 13"x 17" envelope or smaller.
What do I Need to Submit My Art?
A valid submission will contain the following information:
An original copy of the artwork. Each piece must be original, authentic, unpublished, the sole property of the entrant, and not previously submitted in any other contest. Make sure to include a sentence or two on your submission form describing your artwork.
Your personal information, printed on either the back of your artwork or on a separate sheet attached to your artwork:
First and last name:
Mailing address:
Phone number:
E-mail address:

A completed and signed entry form. Print out the ENTRY FORM and send it to us when you send your artwork. Entries cannot be accepted without a signed entry form.
How Should I Submit My Artwork and Entry Form?
Regional Contests—Please find a park near you from the list Participating Parks, and read their individual directions for submission.
National Contest—Regional winners will automatically be forwarded to the National Contest. The same piece of art will be sent to the national level and judged.
When is the Deadline?
The deadline for submission is RECEIVED BY JUNE 12TH. Please be aware that mail to some parks can take additional time, so plan accordingly.
How will the Artwork be Judged?
The artwork will be judged by a panel on originality, creativity, quality, and relevance to the topic. Four top entries in each age group will be selected including 1st Place, 2nd Place, 3rd Place, and Honorable Mention. The age groups are:
8 years old and under
9 to 13 years of age
14 to 18 years of age
18 and older
The regional winner's artwork will appear on national park websites by the end of June, 2021.These winners will advance automatically to the national level. The same piece of art will be sent to the national level and judged. The results will appear on the homepage or International Year of Caves and Karst 2021—NPS Celebrates! on October 20, 2021.
Disclaimer
By submitting an entry, an entrant agrees to allow the National Park Service to use his or her name to post on the NPS web sites, without compensation unless prohibited. All entries and all rights of ownership in and to the entries, including all rights to use, reproduce, publish, modify, edit, and distribute the same will become the exclusive property of NPS and will not be returned. NPS reserves the right to edit, modify, copyright, publish, use, and reproduce any and all entries without further compensation. The National Park Service, its agents and contractor, are not responsible for lost, late, misdirected, incomplete, or postage-due entries. Contest void where prohibited or restricted by law.
Last updated: October 13, 2021