Our Staff & Offices
Learn and Explore
All official inquiries and comments should be directed to:
In writing:
National Park Service
Attn: Superintendent
Statue of Liberty National Monument
New York, New York 10004
E-mail the park.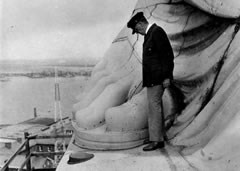 General Information Line: 212 363-3200
Information about ferry tickets, schedules, cancellations and other trip planning items related to traveling to and from the island, please visit www.statuecruises.com. Note: Statue Cruises is the only authorized vendor for tickets to the Statue of Liberty National Monument and Ellis Island.


Last updated: March 30, 2019