UNESCO World Heritage Designation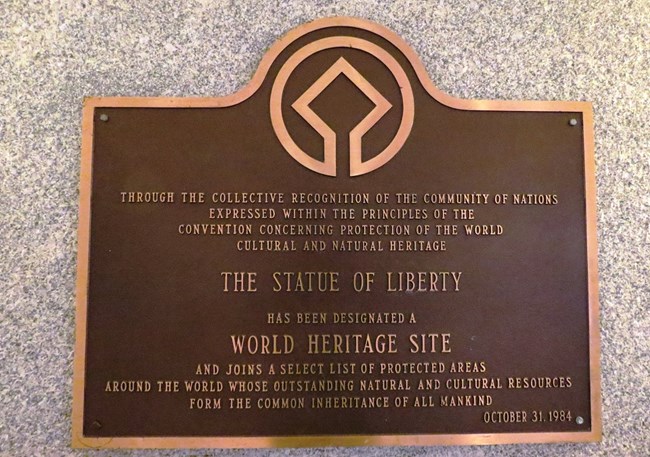 What do national treasures like the Grand Canyon, Independence Hall, Yellowstone and the Statue of Liberty have in common with the Great Wall of China, Taj Mahal, Galapagos Islands, and the Tower of London?

They are World Heritage Sites. They are such outstanding universally recognized natural and cultural features that they attract admiration and interest in conservation by people worldwide.

The Statue of Liberty is one of the the most universal symbols of political freedom and democracy in the world. The World Heritage Convention provides for the protection of those cultural and natural sites deemed to be of outstanding universal value. The World Heritage Committee applies two sets of criteria: one set for cultural sites and another for natural sites.

The Statue of Liberty was inscribed in 1984 as a Cultural site, under Criteria C (i) and (vi):

Criterion (i): This colossal statue is a masterpiece of the human spirit. The collaboration between the sculptor, Frédéric-Auguste Bartholdi, and the engineer, Alexandre-Gustave Eiffel, resulted in the production of a technological wonder that brings together art and engineering in a new and powerful way.
Criterion (vi): The symbolic value of the Statue of Liberty lies in two basic factors. It was presented by France with the intention of affirming the historical alliance between the two nations. It was financed by international subscription in recognition of the establishment of the principles of freedom and democracy by the United States of America's Declaration of Independence, which the Statue holds in her left hand. The Statue also soon became and has endured as a symbol of the migration of people from many countries into the United States in the late 19th and the early 20th centuries. She endures as a highly potent symbol – inspiring contemplation, debate, and protest – of ideals such as liberty, peace, human rights, abolition of slavery, democracy, and opportunity.

The UNESCO World Heritage plaque is on display in the lobby of the Statue of Liberty. Visitors will have to reserve either pedestal or crown tickets to enter the pedestal. To learn more about the types of tickets available, please visit Plan Your Visit.
Last updated: April 30, 2018