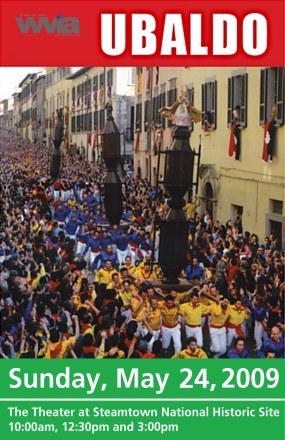 Ubaldo documents a cultural festival more than 800 years old that can be found in only two places in the world, Gubbio, Italy, and Jessup, Pennsylvania.
Participating in the festival is a very important experience in the lives of the residents of these sister cities. Their stories create a uniquely intimate bridge between two countries, two cultures and two communities over which they share their past and present, and traditions of physical challenges and personal values.
Ubaldo is shot entirely on location in Gubbio and Jessup. The film's narrative follows the experiences of a tour group from Jessup during its visit to Gubbio for the 2006 celebration. The film also tells the story of how this tradition came to the town of Jessup, one of 40 historic communities of the Lackawanna Heritage Valley.