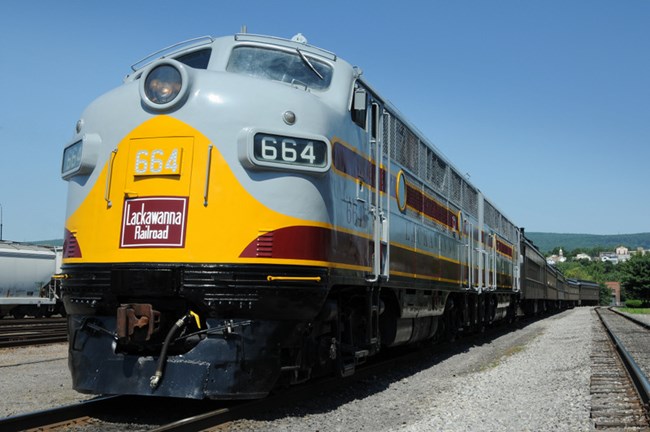 Steamtown NHS offers seasonal excursions to Moscow, Pennsylvania, a small town on the western edge of the Pocono Plateau. This 26-mile round trip take about 2 hours, including a 30-40 minute layover at Moscow Station. It follows Roaring Brook through the Nay Aug tunnel into the Pocono Mountains, across numerous bridges and through the historic and scenic Pennsylvania countryside. Tour the restored freight depot or passenger station during your layover. Light refreshments are available for purchase, through the Lackawanna & Wyoming Valley Railway Historical Society, at the passenger station. Sales proceeds help benefit the Boston & Maine #3713 restoration efforts. Basic restroom facilities are located in the freight depot.
Moscow excursions depart at 12:30 pm and return at approximately 3 pm. For reservations, phone 570-340-5204 daily, 9:00 am - 4:00 pm. Internet / email sales are NOT available.

*August 5 and 6 (2017) trips offer the opportunity to visit the nearby Moscow Country Fair during our layover. For these two trips, we expect to return to the park at approximately 4:00 pm.