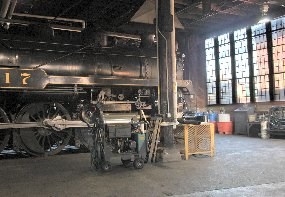 Preparing a steam locomotive for a period of overnight inactivity isn't as simple as turning off the ignition on your car! Observe the 90-foot turntable in action as it aligns the locomotive with it's assigned roundhouse bay for service. Join a Ranger or Volunteer inside the roundhouse to observe some of the shutdown procedures.
Departs from the Visitor Center. Included in the Park Entrance Fee.
Possible heat and noise warning; excessive noise warning at scheduled boiler wash intervals.