Locomotive Shop Tour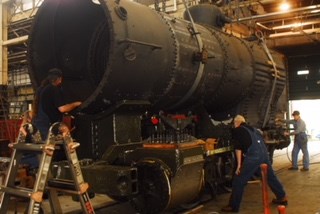 Join a Park Ranger or a Volunteer on a 45-minute walking tour for a look at what it takes to maintain and repair steam locomotives. This walk through this historic Locomotive Shop of the Delaware, Lackawanna & Western Railroad allows all to see the huge behind-the-scenes system that was necessary for safe, efficient railroad operations.
Departs from the Visitor Center twice daily at 11:00 a.m. and 1:00 p.m. Possible heat and noise warning.
Last updated: January 7, 2020