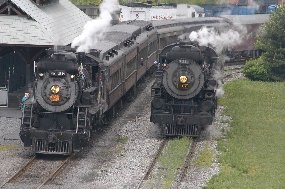 There was a time in American history when most small towns were served by a railroad, had a freight station, a small railroad yard and, most significant, a passenger station. From that small passenger station, a rider could get to, literally, anywhere in America. Those days have passed, but at Steamtown, visitors can discover the world of the Pullman sleeper, dining car, and long distance passenger service on this 45-minute program.
Included in the Park Entrance Fee.
Outdoor program. This is not a train ride.