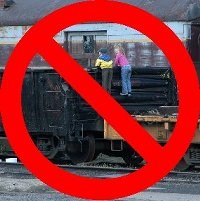 For your personal safety, please remember:
Trains are large and can move at any time. Assume that ALL tracks are active and that a train can be on it at any time.
The railroad tracks present a tripping hazard, whether they are above ground or embedded in concrete, wood, or macadam.
Dress for the weather. The passenger cars used for train rides are not air conditioned. They can be very hot (or cold) depending on the weather.
Not all of the cars and locomotives in the Steamtown collection have been stabilized. Please do not climb on any of the railroad equipment; the cabs to some locomotives in the museum complex are open.
Steam locomotives sometimes release live steam from the cylinders under the front of the locomotive. This live steam can be hazardous.
Steamtown National Historic Site is an active industrial heritage site. Please supervise your children at all times.
Cinders from operating steam locomotives can cause eye irritation. If you get a cinder in your eye, do NOT rub it; blink repeatedly, and the tears should wash the cinder out. If not, contact a Park Ranger or Volunteer for assistance.
Individuals with breathing difficulties need to be aware that steam and smoke are part of the steam railroading experience and may create breathing difficulties.
Other hazards may present themselves. Please exercise caution at all times during your visit.
EXPECT TRAINS AND LOCOMOTIVES TO MOVE
AT ANY TIME IN ANY DIRECTION ON ANY TRACK!
We hope you safely enjoy your visit to Steamtown NHS.