Guided Tours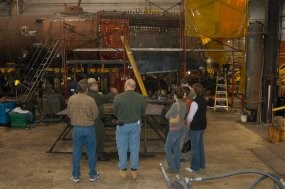 Steamtown National Historic Site offers various walking tours conducted by park rangers and volunteers. These programs cover topics including "Railroad Yards: Then and Now," "Locomotive Shop Tour," and others, see below for more.
To learn about the Walking Tour(s) that may be available during your visit, view our calendar. Please check at the Visitor's Center Desk for information when you arrive at the park. Schedules are subject to change without notice due to staffing, scheduling constraints and equipment availability.
Daily Tours
Every day we host two types of tours which each run twice daily which are as follows:
Locomotive Shop Tours
Join a Park Ranger or a Volunteer daily on a 45-minute walking tour for a look at what it takes to maintain and repair steam locomotives. This walk through this historic Locomotive Shop of the Delaware, Lackawanna & Western Railroad allows all to see the huge behind-the-scenes system that was necessary for safe, efficient railroad operations.
Departs from the Visitor Center at 11:00 a.m. and 1:00 p.m. Possible heat and noise warning.
Possible Ranger's Choice Programs
We all have our favorites - favorite parks, favorite locomotives, favorite railroad story, etc. - and we've incorporated that "favorites" interest into Ranger's Choice Tour programs! Join a Park Ranger or a Volunteer on a walking tour that is geared towards that individual's "favorite" theme at the park! Some of our recent Ranger's Choice tours have featured programs about display locomotives, steam or diesel locomotive technology, the steam-to-diesel transition, caboose (cabeese?!) use, and the like!
Departs from the Visitor Center at 12:00 p.m. and 2:00 p.m.
Check at the Visitor Center when you arrive for your visit to learn of that day's featured program. All programs depart from the visitor center. Tour Note: These are not operational train ride tours.

On the Tracks Tour.
Join us at the Vistor Center desk for our 12:00 p.m. daily tour to learn about railroad track and all it's functions.
People and Railroading Tour.
Stop by the Visitor Center desk at 12:00 p.m. for our daily tour of the roles and responsibilities of what railroading life was like years ago.
If Steam Railroading Was Really Romantic, Then Why Did Mr. Exec Swoon For Diesel?
Railroad management always sought efficiency of operations. When diesel technology proved that point, the wheels of change set steam locomotion on the tracks to oblivion.
Railroading's Not So Jiffy Lube.
Coal and water weren't the only steam engine consumables; their moving parts required constant lubrication. Learn more in our historic Oil House.
600 Tons and What Do You Get? A "Big Boy" That Knocks Out Any Challenger!
Union Pacific helped defeat Fascism in World War II by building a steam locomotive that could pull nearly 8,000 tons of freight over mountains without having to call in the reserves.
Caboose, Cabin Car, Hack, or Crummy: While Last, It Was Not Least!
Learn of the many important roles performed by the lowly freight caboose.
How Do You Tame a Fire-Breathing Dragon?
Steam engines are complex beasts that need to be fed and watered with great care. Learn how steam technology was successfully harnessed for moving people and freight.
A Quick and Dirty Guide to Train Crews!
It took a lot of people with varied skills to safely operate a steam-powered train. Who were they and what happened to all those jobs?
Why Here?
How did mining and railroading gain national prominence for this small out-of-the-way Pennsylvania valley during the Industrial Revolution?
Lies, Legends, and Lore; But Reality Beyond Belief!
Railroading has more than its share of tall tales that are so easy to believe. Yet, the true stories are even more amazing?
Cold Cash, or Winter Railroading
Since time is money, how do railroaders keep the tracks clear when the snow flies?
Tramps, Thieves, and Bums Stealing a Ride.
Did these names properly describe the American Hobo? Or was he something else entirely?
John Luther Jones: A True American Hero?
How did a kid from Cayce, Kentucky, become a railroading icon?
Why is a Roundhouse Round?
Did our Roundhouse always look this way, or did it change as needs changed?
Not Quite Airmail, But Still Sending Letters on the Fly!
Learn more about the workers who kept the mail moving by snagging, sorting, and delivering mail from specially-designed Railroad Post Office cars attached to passenger trains.
"All Aboard" For Luxury: The Pullman Palace Car.
George Pullman built an empire by making rail travel luxurious. From private cars to business cars to sleeping cars, "Pullman" was the first-class way to travel.
They're All Really the Same! Or Are They?
Why do steam locomotives, big and small, all look pretty much alike?
The Car Knocker. . . Who?
What did freight car inspectors look for and why they were important for safe rail operations?
Hoodoos, Curses, or Just Plain Bad Luck?
Why were railroaders in the Age of Steam so superstitious?
Dirty Jobs! The Saga of Locomotive Maintenance.
What went on behind Roundhouse doors to keep steam locomotives operating?
McAdoo! Who?
Perhaps the most important unknown American of World War I, William Gibbs McAdoo's efforts to standardize and streamline U.S. railroad operations kept the war effort rolling along.
Roundhouse Tours and Turntable and Handcar Demonstrations
These tours and demonstrations may also be available when you visit. Please check at the Visitor's Center Desk for information when you arrive at the park.
Last updated: January 17, 2020