Kayaking and Canoeing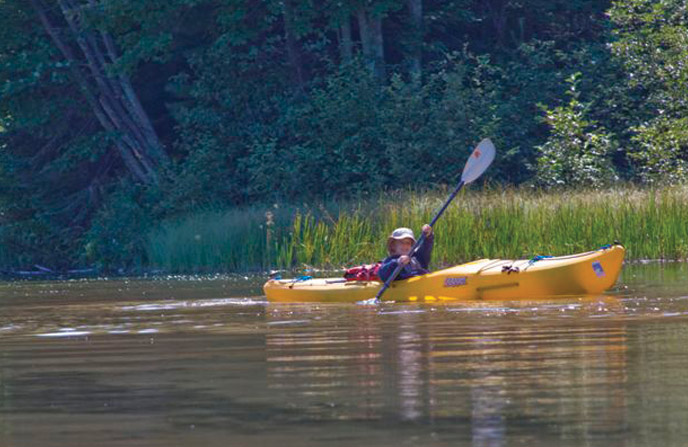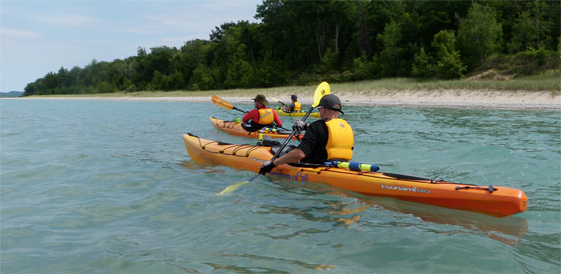 Leave a Float Plan
A float plan contains important information such as your name and address, vessel description, names of people in your group, safety equipment, planned route, length of trip and return date. Leave your float plan with a friend or family member and tell them who to call if you are overdue or an emergency arises. When planning your trip, we suggest paddling no more than 10 miles per day for beginners or 15 miles per day for experienced paddlers. Link to the U.S. Coast Guard web site with Float Plan information and blank form: http://www.uscgboating.org/safety/float_planning.aspx
Have Alternate Plans
If conditions on Lake Michigan are not favorable for your planned trip, you may want to paddle one of the rivers or inland lakes in the National Lakeshore, which are not as affected by high winds and waves. Sleeping Bear Dunes National Lakeshore has several inland lakes that you can explore which can provide an enjoyable safe alternative if winds and high waves keep you from paddling the "Big Lake". These smaller lakes provide excellent wildlife viewing – especially loons, ducks, swans, and other birds.
Clean Your Kayaks
Please clean, drain, and dry your boat after you leave any body of water, especially Lake Michigan, to prevent the spread of aquatic invasive species. This is especially important for our inland lakes. For more information on aquatic invasive species and their impacts to lakes, streams, and how we recreate please visit the following websites:
http://www.protectyourwaters.net
http://www.nps.gov/slbe/naturescience/nonnativespecies.htm
Backcountry Camping
There are three campgrounds within walking distance of the Lake Michigan shore. Platte River Campground has some walk-in sites that have a trail to the beach (.75 miles). White Pine Backcountry Campground is about 0.3 miles from the beach, and D.H. Day Campground has some sites that are near the beach. Check the park's camping web page for details on how to obtain a permit for a site: http://www.nps.gov/slbe/planyourvisit/backcountrycamping.htm
For Your Safety
Kayak Launch Points
Sea Kayaks vs. Recreational Kayaks
U.S. Coast Guard Equipment Requirements
All vessels on Lake Michigan are required to have a wearable PFD per person on board and a sound providing device that is audible for one half mile for 4 to 6 seconds (such as a horn or whistle). We highly recommend wearing your PFD while kayaking on Lake Michigan. When operating from sunset to sunrise and in or near areas of reduced visibility, use navigational lights that may be seen by others and be equipped with a visual distress signal.
In Case of Emergency
If you have a Marine Band Radio, you can contact the U.S. Coast Guard on Channel 16. If not carrying a radio, carry a cell phone in a water-proof container and call 911 in case of emergency. Be sure to give a description of your location and include that you are in Lake Michigan near Sleeping Bear Dunes National Lakeshore. In some places along the lakeshore your cell phone will pick up a cell tower in Wisconsin instead of one in Michigan, so you need to be specific about your location.
Kayak Safety Resources:
American Canoe Association Kayak Safety Tips