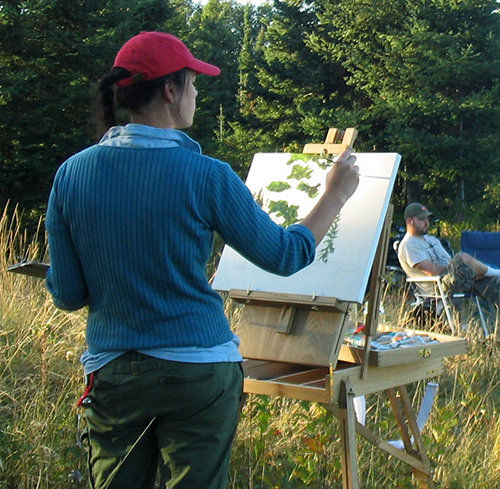 News Release Date:
October 7, 2015
Sleeping Bear Dunes National Lakeshore (National Lakeshore) welcomes 2015's October Artist-In-Residence (AIR) Tracy Frizzell; a Minnesota artist currently working and living in Minneapolis. Ms. Frizzell loves all things water, and her work explores her fascination with trying to make sense of the seeming chaos of waves and reflections for the patterns that exist underneath. With each piece, she strives to not only accurately portray a scene, but also capture that elusive "something" that makes it worth painting in the first place. Painting mostly in oils and watercolors, she uses a style that adds action to her paintings. With color and brushstrokes, she takes what might have been a stagnant scene and adds an element of imagination and emotion to it.  
On Saturday, October  17 at 2:00 p.m., Ms. Frizzell will present a demonstration on how she paints water. Her one and a half-hour demonstration  is free, open to the public, and will take place at the Tweddle farmhouse on Stormer Road (1.8 miles south of Empire on M-22; turn right on Stormer Road. Farmhouse is on the left.)
The National Lakeshore has sponsored the AIR program since 1993, and it is open, through competition, to American writers, composers, and visual artists, whose work can be influenced and enhanced by the outstanding features that are protected by the National Park Service and enjoyed by millions of visitors year after year. In exchange for the opportunity to live in the park for a short period, Artists-In-Residence donate an original piece of art to the park, interact with visitors while conducting their craft, and offer at least one public presentation of their work. There are only two sessions (September and October) available each year. For more details, please go to www.nps.gov/slbe/parkmgmt/artistinresidence.htm.