Tim Troll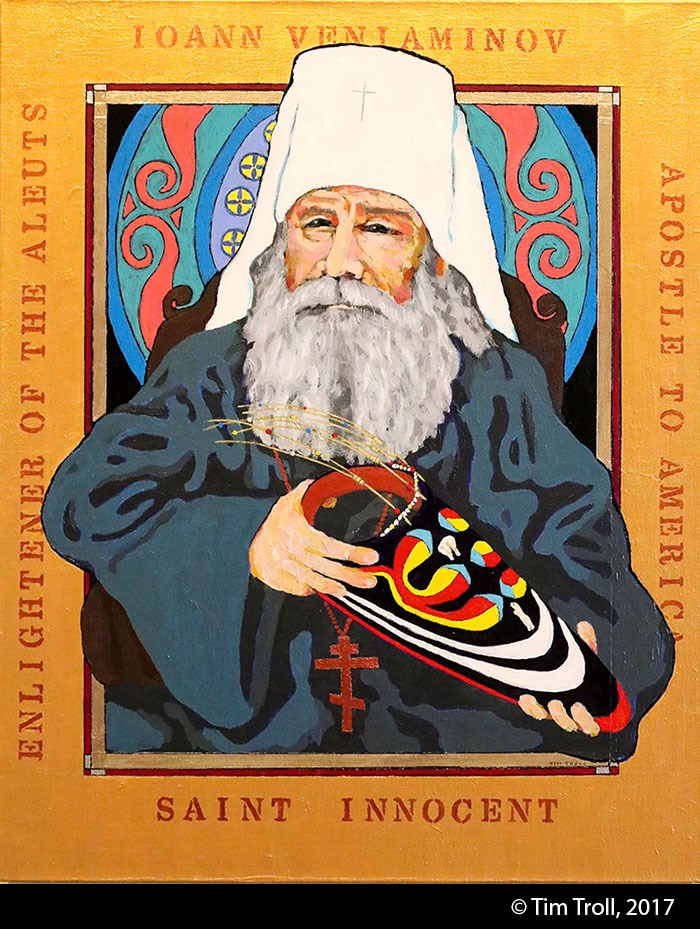 Missionaries of Alaska - St. Innocent
Acrylic on canvas

"Ioanne Veniaminov came to Alaska as a Russian Orthodox priest in 1823 and found his calling among the Unangan people of the Aleutian islands. He embraced Unangan customs and built upon them in his missionary work. He helped develop an Aleut alphabet and opened a bilingual school in which both Aleut and Russian were taught. He also helped end the Russian American Company's practice of compelling Alaska Natives to serve company interests. Veniaminov later moved to Sitka where he became the Bishop of Sitka and Alaska, and built St. Michael's Cathedral. After the sale of Alaska he was appointed the Metropolitan of Moscow, the highest position in the Russian Orthodox Church. He was canonized as Saint Innocent, Enlightener of the Aleuts and Apostle to America in 1977. He is depicted holding an Aleut hunting hat."

- Tim Troll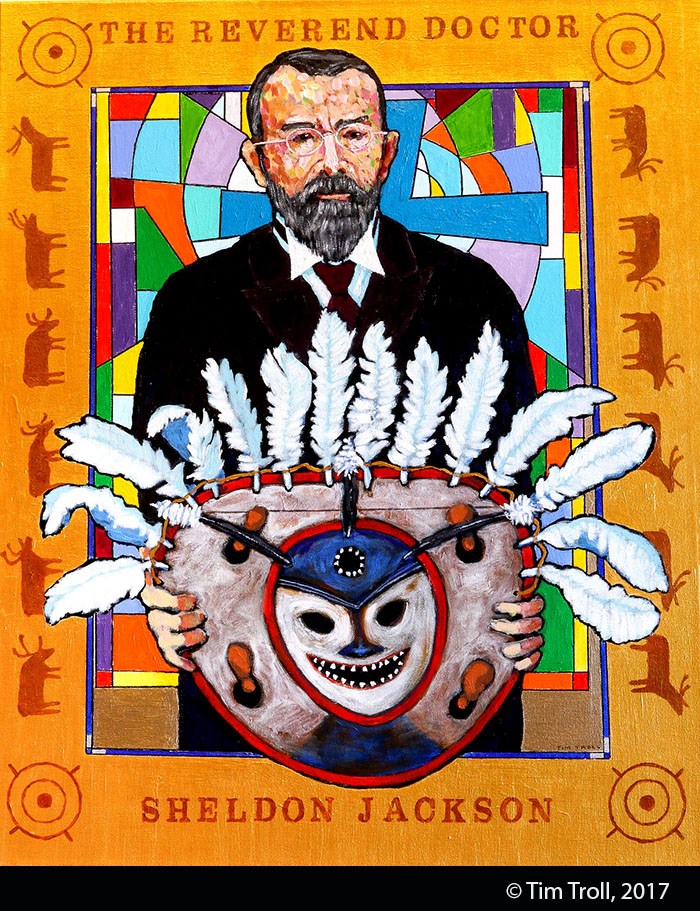 Missionaries of Alaska - Reverend Sheldon Jackson
Acrylic on canvas

"Presbyterian minister Sheldon Jackson first set foot in Alaska a decade after the purchase. He was a product of the late19th century 'progressive' view that assimilation of Native peoples was the only hope for their survival. Jackson embraced a paternalistic ethic that emphasized English only in schools and the elimination of Native traditions in favor of Christian values. Jackson was instrumental in the passage of the Organic Act of 1884, creating a territorial government for Alaska and securing for himself a Presidential appointment as the General Agent of Education for Alaska. From that post he recruited missionaries from several protestant denominations to serve as government teachers in the Native schools that he established throughout the territory. Jackson also developed an initiative to introduce reindeer herding among Alaska Natives, a marginally successful effort at best.

For many, Jackson embodies all that was wrong about the missionary experience in Alaska. But unlike his contemporaries, he believed in teaching Native children in their villages and not removing them to boarding schools. He established an industrial school for Alaska Natives in Sitka that eventually became Sheldon Jackson College. Jackson also created Alaska's first museum in which he housed his vast collection of Native artifacts, including the striking Yup'ik shaman's mask he is holding in this portrait. Ironically, in the last three decades this collection has become a source of information and inspiration for Alaska Natives seeking to revive cultural practices Jackson sought to suppress."

- Tim Troll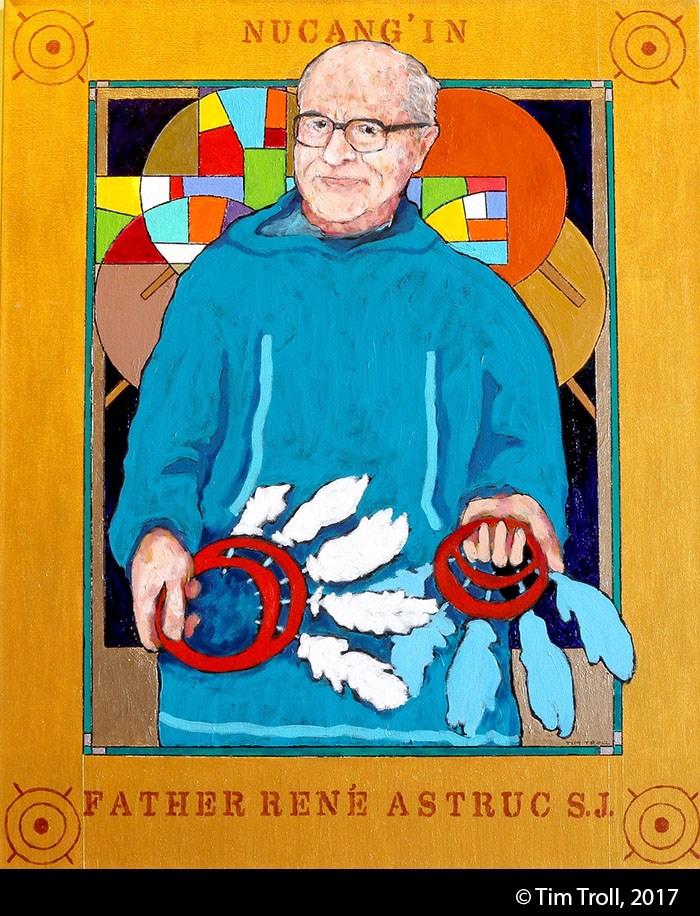 Missionaries of Alaska - Father Rene Astruc
Acrylic on canvas

"Veniaminov and Jackson are giants in the history of Alaska. Less well known is the third portrait figure, Father Rene Astruc S.J. A native of France, Rene Astruc came to Alaska as a missionary in the early 1950s, not long after he was ordained a Jesuit priest. Father Astruc found his calling among the Yup'ik people of Southwestern Alaska. Initially, the Roman Catholic Church, and Astruc, embraced the paternalistic ethic of assimilation that discouraged Native languages and cultural practices. However, Astruc's attitude and that of the Church changed and eventually gave way to a willingness to accept Native traditions. Father Astruc is particularly remembered for his appreciation of Yup'ik dancing. His willingness to embrace and participate in Yup'ik dancing helped to bring the practice out from the hidden corners of village life into the vibrant public expression of Yup'ik joy and spirituality we see in Southwestern Alaska today. In this painting Father Astruc is depicted extending his Yup'ik men's dance fans as an invitation to join in the dance.

Father Astruc was superintendent of the Catholic boarding school in the Yup'ik village of St. Mary's in the mid 1960s. The boarding program at St. Mary's was often praised as the most successful Native education program in Alaska until it closed in 1987. In his later years Father Astruc directed his efforts to training Native deacons, and paved the way for the apology the Roman Catholic church gave to the Yup'ik people for its repressive missionary practices in the past.

The Yup'ik people honored Father Astruc by hosting him at a traditional Potlatch in 1996 and gave him the Yup'ik name Nucang'in."

- Tim Troll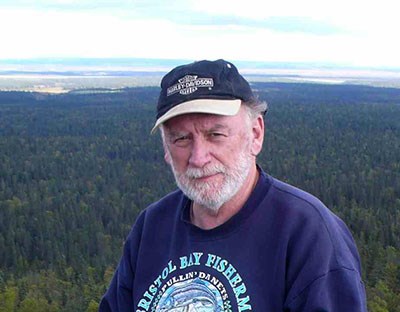 Tim Troll
came to Alaska in 1978 to serve as a VISTA volunteer lawyer in Bethel. His years in the state have been split between living in Southwest Alaska and Anchorage. He has been city administrator for St. Mary's on the Lower Yukon and Sand Point in the Eastern Aleutians, CEO for an ANCSA village corporation and a local government specialist for the state in Dillingham, a practicing lawyer in Anchorage, and a conservation program director for The Nature Conservancy. He is currently the Executive Director for the Bristol Bay Heritage Land Trust, a conservation non-profit organization he helped create in 2000. His wife Leanne Goetchius teaches second grade. Their two grown sons live in Anchorage.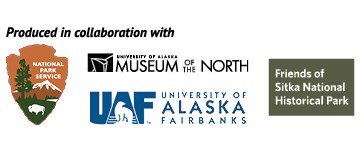 Last updated: December 9, 2017