Voices of Change
Perspectives on the Transfer of Alaska from Russia to the United States
March – December 2017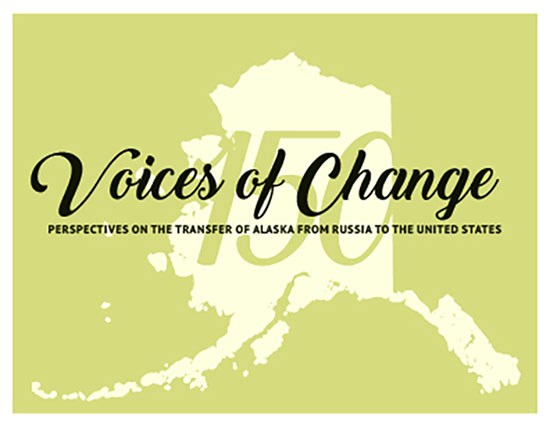 "The inhabitants of the ceded territory, according to their choice, reserving their natural allegiance, may return to Russia within three years; but if they should prefer to remain in the ceded territory, they, with the exception of uncivilized native tribes, shall be admitted to the enjoyment of all the rights, advantages, and immunities of citizens of the United States, and shall be maintained and in the free enjoyment of their liberty, property, and protected religion. The uncivilized tribes will be subject to such laws and regulations as the United States may, from time to time, adopt in regard to aboriginal tribes of that country."

- Treaty of Cession, Article III


This art exhibit shares the voices of those often forgotten or marginalized during the transfer of Alaska from Russia to the United States in 1867. Artists were invited to express their feelings, thoughts, and responses to the Alaska Purchase, or "Treaty of Cession," and the subsequent 150 years of American governance as it has impacted Alaska Native peoples. The Treaty of Cession explicitly excluded Alaska Natives from the rights and freedoms offered to white inhabitants of the same land under the new government. The perspectives offered through the artwork convey a sense of the broad effects this exclusion had on Alaska Natives.

There is no question that following the transfer the formal marginalization of Alaska Natives resulted in a widespread departure from indigenous ways of life. Non-Native education, language and religious requirements, the introduction of diseases, and the abuse of the environment necessary for subsistence lifestyles, all were transformative elements in the years following the transfer. The sentiment of loss is captured in many of the pieces in this exhibit. But change is complex, and out of hardship comes resiliency. The artwork in this exhibit also illustrates the inherent strength Alaska Natives have demonstrated in adapting to that change, relying on cultural values to avoid victimization.

In commemoration of the 150th anniversary of the Alaska Treaty of Cession, this exhibit acknowledges the tragedies that occurred as a result of the transfer, but also embraces the power of Alaska Native arts as one mechanism for healing the Alaska Native people.
The National Park Service has obtained permission from the participating artists of the Voices of Change exhibit for the use of their work on the Sitka National Historical Park website. Please review the copyright credit associated with each work prior to any further use of the images included in this digital exhibit.
Last updated: October 5, 2017