Trail Conditions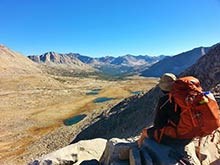 Here you will find the most recent trail conditions available to us. Conditions are continuously changing and wilderness hikers need to plan for inclement weather. Winter storms start early in the High Sierra and can surprise unaware wilderness travelers. Do not rely on trail updates in spring, fall, and winter when there are very few rangers in the field. Consider all possibilities before you head out on your trip and check out the Trail Safety page for more information on the potential hazards of wilderness travel. For the most up to date information on frontcountry trails, check in at the visitor center closest to your trailhead.
You can help us by sending an email to report trail conditions. For more information please call the Wilderness Office at (559) 565-3766.
For snowpack data, visit the California Department of Water Resources snow survey website.
Cedar Grove and Roads End
Wilderness Trails
Avalanche Pass
7/2 - Trail crew is clearing from Roaring River to Avalanche Pass today.

7/6 - Report of tread damage to constructed switchbacks south of Bubbs Creek
Lewis Creek and Kennedy Pass
7/1 - Trail mostly clear, a few downed trees, Trail kind of disappears for a short period of time just after Frypan Meadow, but then picks up again.
7/1 - Kennedy Pass: Patchy snow above 10,000 ft, mainly on north facing slopes, a tiny bit of snow on the N. side of Kennedy Pass. No snow impeded travel, was able to cut east from East Kennedy Lake through Volcanic Lakes region to Granite Pass, which was claer of snow. Lots of mosquitoes in Granite Basin.
Copper Creek and Granite Pass
6/15 - The trail was 100% snow free all the way to Grouse lake and virtually snow free all the way to the top of
Goat Mountain. There were only small patches that were easy to avoid. There were only 3 downed trees on the trail and they were easy to cross.
Woods Creek, Bubbs Creek, and Glen Pass (Rae Lakes Loop)
6/5 – Woods Creek trail is snow free to Upper Paradise Valley. Bridge is out at Upper Paradise and the crossing is wide with about 2 ft. deep and swift.

6/15 - The Kings River crossing at Upper Paradise is passable. There is a shallow section just down stream from the old bridge. There is also large logjam less than 1/4 mile downstream from the old bridge. Hikers should use caution if attempting to cross on the logjam as they can shift without warning.Glen Pass: The North side of the pass has a well-established snowfield crossing and then some navigation required down the scree field to meet back up with the trail a few hundred feet down.The scree field is a bit loose.

6/19 - Glen Pass: South side is snow-free. North side 300 foot snow patch with boot pack. Travel during late morning or afternoon is recommended. Most switchbacks are melted out. Not stock recommended.

6/21 - Bubbs Creek crossing at East Lake Junction, water is swift ~3ft deep. Not recommended for stock. Hikers should seek an alternate crossing.

7/1 - North side of Glenn Pass snow free.
Gardiner Pass
6/10 - No report at this time.
Sixty Lakes Basin
6/10 - No report at this time.
Don Cecil
6/5 - Based on parkwide snow levels, trail likely free of snow to Lookout Peak. Expect many downed trees across the trail.

Frontcountry Trails
Hotel Creek
6/10 - No report at this time.
Kings Canyon- West of Sierra Crest
Wilderness Trails
East Lake
6/10 - No report at this time.
Goddard Canyon
6/10 - No report at this time.
Tehipite Valley
6/10 - No report at this time.
Middle Fork Kings
6/10 - No report at this time.
Grant Grove and Jennie Lakes Wilderness Area
Wilderness Trails
Big Meadows Road
6/10 – Road is open (Hume Lake Ranger District).
JO Pass
6/10 - No report at this time.
Seville, Ranger, and Lost Lakes and Belle Canyon
6/10 - No report at this time.
Redwood Canyon
6/10 - No report at this time. Expected to be snow-free.
Sugarloaf Valley and Roaring River

6/10 - Roaring River to Kern Ranger Station: All stream crossings 2 feet or less, not swift but slippery.

7/2 - No downed trees from Marvin Pass to Roaring River via Sugarloaf Valley.

7/6 - Marvin Pass to Comanche Meadow: Trail obscured by white thorn bushes in several spots. Trail is navigable despite thorns.
Weaver Lake: camp at least 100 feet away from lake
6/10 - No report at this time.
Jennie Lake: camp at least 100 feet away from lake
6/10 - No report at this time.
Frontcountry Trails
Panoramic Point
6/10 - No report at this time.
Lodgepole, Wolverton, and Crescent Meadow
Wilderness Trails
Twin Lakes Trail
5/28 - Observed from Little Baldy. Silliman Pass appears clear of snow, possibly holding snow in shaded areas.
Alta Peak Trail
5/28 - Patchy snow fields on final approach to summit. Summit clear of snow. Patches of snow along the ridge line to summit, advise staying way from edge to avoid possible overhanging cornice. Snow level approximately 10,000ft.
Lakes Trail (Pear Lake)
6/5 – Watchtower Trail is clear of snow and open. Designated campsites at Pear and Emerald Lakes are snow free. Privies are open.
6/11 - All trails are clear of snow and trees. There are a few spotty sections of Panther with debris, but all of it small enough to walk over.
Tablelands
5/28 – Observed from Little Baldy. Western Tablelands appear to have ~10% snow coverage.
High Sierra Trail
5/28 - Many scattered snow fields above Hamilton on approach to Gap, possibly avoidable.

6/17 - There's an area of the trail climbing out of Buck Canyon (away from Crescent Meadow) that is pretty eroded. Kaweah Gap was passable with a bit of trail finding through very small snowy areas.

6/27 - Between Kern Hot Springs & JMT Junction, trail is stock passable. 8 trees 4 miles north and lower than Hot Springs, most are easy ride arounds, a couple are more complicated, but all are passable with stock. All creek crossings fordable on logs, rocks, or shallow wading.

Copper Mine Pass
6/10 - No report at this time.
Colby Pass
6/26 - North side small patches of snow no special equipment nessisary.

7/7 - 4 downed trees between Roaring River and Big Wet Meadow. One of those is 1/2 -mile before Big Wet Meadow- It is a 'stock stopper.' Trail crew hopes to remove these trees next week.

Elizabeth Pass
7/2 - Roaring River to Elizabeth Pass clear of downed trees. North side of pass has a few small patches of snow.
Foothills
Wilderness Trails
Middle Fork Trail
6/10 - Middle Fork Road is open.
Garfield Grove Trail (South Fork)
12/15 - Numerous downed trees and some hanging snags for the first 2-3 miles that require climbing over or off-trail passage. Downed trees are scattered approximately every 20-50 yards apart. Occasional or sporadic downed trees after that. Snow line approximately 4,500'. Drainages and creeks are passable with caution. Snow depth at Snowslide Canyon approximately 12 inches.

7/4 - From Garfield Grove to South Fork Crossing approximately 12 downed trees. 2 stock-stoppers.
Ladybug Trail (South Fork)
11/13 - Several trees have fallen across the trail, but almost all are passable without having to go around.
Lower Colony Mill Trail (North Fork)
6/10 - No report at this time.
Frontcountry Trails
Marble Falls
6/10 - No report at this time.
Paradise Creek
11/13- Be cautious of potential hazard trees that may drop branches or fall.
Mineral King and Kern Canyon
Wilderness Trails
Paradise Ridge Trail
6/10 - No report at this time.
Timber Gap
5/28 – south side of Timber Gap appears snow free.
Tar Gap
6/10 - No report at this time.
Black Rock Pass
6/5 - Observed from Moro Rock. West side of pass appears mostly clear of snow.

6/22 - West side, snow free. East side, patches of snow, easily avoidable.
Glacier Pass
6/22 - Large patch of steep snow on north side of pass; rangers used ice axes for descent. Traction devices recommended. If crossing in morning.
Sawtooth Pass
5/28 – West side of pass appears to have only small patches of snow.

6/26 - Mostly snow free 4 patches of snow 1 mile before Monarch Lake.

6/29 - Small snow plug on east side of pass - easily bypassed, otherwise snow free. Monarch Lakes: One lingering snow patch - can traverse below trail or shimmy between snow and rock above trail.
Farewell Gap
5/28 – north side snow line appears to be ~9600 ft.
Franklin Lakes and Franklin Pass
5/28 - Franklin Creek crossing about calf-deep.
White Chief, Eagle Lake, and Mosquito Lakes
6/10 – Eagle Lake Trail has been cleared of logs.

6/19 - Large tree down 100ft before Mosquito trail junction

Atwell/Hockett Trail
6/19 - Trail clear from TH to Hocektt Meadow. Coming down from Hockett to South Fork trailhead there were multiple (<10) trees down over the trail - many requiring going around. South Fork river crossing was ankle deep. Lower part of the trail was fairly overgrown with brushy veg, including some poison oak.

6/26 - Passable, but several sections are severely overgrown. Also, both Putnam and Snowslide Creeks are dry, hikers should pack enough water. Water can be obtained in one of the earlier drainages about a mile in (before Putnam). Also, mosquitos and flies very active.

Sierra Crest and East Side (Inyo National Forest)
For more information on trails starting on the east side of the Sierra Nevada, contact the Inyo National Forest Wilderness Permit Office at (760) 873-2483 or check their trail conditions page for more information.
Bishop Pass/Dusy Basin
6/19 - Bishop Pass- E. side, lower down 10 to 20 foot, long patches covering trail, avoidable. Last of switchbacks has 30 foot-long patch avoidable by crawling over boulders. Not recommended for stock. 100 foot patch of snow on top of Pass. On the park side some snow- no special equipment required.

7/4 - Bishop Pass mostly snow free; east side switches shoveled out, 150ft flat snow on top. 2 large rocks (2ftx3) on lower switches, partially blocking the trail.

Evolution Basin
6/28 - Evolution Creek crossing 20 inches deep trekking poles recommended. Downed tree below Evolution Lake at 10,300' blocks stock access to Evolution Basin.
Mather Pass
7/2 - North Side: half-dozen patches of snow, only partially cover the switches, easily avoidable by hikers. South side: small rockfall that would make stock travel difficult.
Upper Basin
6/10 - No report at this time.
Piute Pass
6/29 - About 25 yards of snow on the east side. Melting quickly.
Muir Pass
6/22 - South side of Muir Pass:Trail is snow-free to lake below Helen Lake. Between that lower lake and Helen Lake there are two steep snow patches 20 feet long. Helen Lake to Muir Pass: 50% snow-covered. Snow is rotten, route-finding is necessary and trekking poles are necessary. Trail follows the best route through this area.
Lamarck Col
6/29 - South side - snow free. North Side - about 120 yards of snow field. Many foot prints to follow. Crossed without needing special equipment. First mile north of Col - three smaller snow fields covering trail at various locations. Straightforward crossings.
Pinchot Pass
7/1 - Snow free and stock passable.
Sawmill Pass
6/10 - No report at this time.
Taboose Pass
6/10 - Taboose Pass Trail on the Inyo National Forest is closed. For more information please see the Inyo National Forest website and closure order.
Baxter Pass
6/10 - No report at this time.
Kearsarge Pass
6/19 - Kearsarge Pass: snow-free/stock-passable

7/2- 1 tree down on the West side of Kearsarge Pass, maybe stock passable. Tree is 1/2 mile down from the Kearsarge Lakes juction on the High Trail.

Forester Pass
6/22 - North side of Forester Pass: 80% snow coverage from 12,200 ft to Pass. Route-finding skills and trekking poles necessary. Snow is melting quickly. At 12,200 ft there is a stock-stopping boulder on the trail. JMT between Vidette Meadow and Center Creek: many small trees and tree limbs over trail. One 3 foot diameter tree. None are impassable to stock.

6/27 - South side has short stretch of moderately steep snow that crosses a shoot, trekking poles and caution recommended. Below the chute, between Forester Pass and Tyndall, there are a few more small patches of snow.

7/6 - South side is snow-free. One large boulder will make stock travel difficult. Other areas of smaller rockfall will also make stock travel difficult. North side is mostly snow-free. Please follow trail rather than cutting switchbacks to avoid the snow.
Shepherd Pass
6/23 - Park side of pass is snow free. Inyo side above 11,500 ft patchy snow. 1 snow field on the last switchback trekking poles and traction aids recommended. All creeks crossings in the Tyndal area are manageable. May require shallow wading to get across some.
Mount Whitney Trail
6/29 – The Whitney Portal and Portal Road is closed until at least 6/29 due to earthquake and rock fall.

6/29 - JMT from Crabtree to Mt.Whitney summit: Crabtree to Guitar Lake: snow-free. Guitar Lake to Mt. Whitney switchbacks to one-mile from Whitney summit: a few small snow patches. Last mile before Whitney summit: several large snowfields, some route-finding necessary. Trekking poles helpful. Traction devices may be useful depending on time of day. East side of Mt. Whitney: Ranger viewed small patches of snow at the top of the switchbacks

Mt Langley
6/22 - Mostly snow-free. There are a few small patches that can be avoided by going around on loose sand and rock.

6/29- Cairned route mostly snow free
John Muir Trail (JMT)
7/2 - South Fork of the Kings Crossing (JMT) River is low, approximately 1 ft. deep.
Army Pass
7/4 - Still significant snow on steep, high-consequence. New Army Pass is the recommended route.
New Army Pass
6/8 - New Army Pass had large patches of snow and one patch of ice on 6/8, majority of it was up at the pass descending into Cottonwood Lakes basin, used microspikes and poles for a short section up there to get down

6/16 - Not stock passable.

6/22 - There is a 20 foot section of steep snow on the East Side of the pass. Hiking poles are recommended ; traction devices are recommended if attempting early in the day.

7/2 - New Army Pass :There is a persistent 10-foot high patch of steep snow covering the very last switchback on the east side of New Army Pass.Hikers can bypass the snow by scrambling up blocky rocks to the right side of the snow (a couple of Class 3 steps, little exposure).
Cottonwood Pass
6/6 - Was clear of snow, good trail conditions. The PCT from the junction from Cottonwood Pass to Upper Rock Creek Lake was alos clear of snow, good trail conditions.

6/19 - Horseshoe meadows to the Siberian Outpost/PCT Junction is completely snow-free and stock-passable.
Miter Basin
6/20 - 90% snow-free. Small patches of snow above 11,000ft, bigger patches of snow above 11,800ft.
Kern Canyon
6/10 - No report at this time.
Guyot Pass
6/10 - No report at this time.
Rock Creek
6/10 - No report at this time.
Siberian Pass
6/10 - No report at this time.