Current Fires
There are no known fires in the parks at this time.

For more information of sources of smoke and the currently area quality for your area, visit fire.airnow.gov


Information about Previous Fires:
KNP Complex
On Thursday September 9, 2021, the Cabin, Colony, and Paradise Fires were ignited by lightning and discovered the following day. The 1.25-acre Cabin Fire was quickly contained, but the Colony and Paradise fires presented serious challenges to firefighting and spread rapidly. The two fires merged into one large fire on September 17, 2021, which was named the KNP Complex.

The fire was declared 100 percent contained on December 16, 2021, after significant precipitation events occurred across the Sierra Nevada. It burned approximately 88,000 acres within Sequoia and Kings Canyon National Parks and killed thousands of mature giant sequoias. Much of the high-intensity fire occurred close to roadways and popular areas, so visitors to the parks will see evidence of the KNP Complex for many years to come.
Fire-related Closures
Some areas remain closed due to impacts from the 2021 KNP Complex Fire. Note that large areas of the parks are currently inaccessible due to major road damage sustained in storms in early 2023. Closure map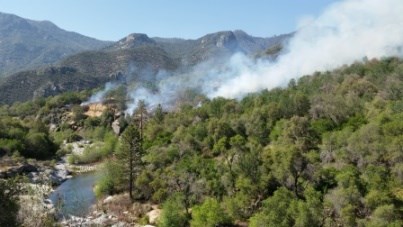 For the official status of any fires in the parks please visit Inciweb (short for Incident Website) at: https://inciweb.nwcg.gov/

You can narrow the view, by selecting California from the drop down menu in the upper right corner of the page.

Air quality information, including forecasts for the park, can provide resources on how reduce exposure to smoke, what we do, and what the public can do.

If you spot a fire burning in the parks, please report by dialing 911.
Last updated: May 14, 2023