Current Fires
Active Wildfires in Sequoia National Park
The KNP Complex, ignited by lightning on the night of September 9, 2021, continues to grow in Sequoia National Park. The complex is comprised of the Paradise Fire and the Colony Fire, which merged on September 17 and are considered one fire. The most up to date information about these fires is available on the InciWeb page for the KNP Complex Wildfires.


---
Information E-mail List
If you would like to be added to the Fire Information Office e-mail list, be sure to include your name, e-mail address, phone number, and organization if applicable.
Subscribe Here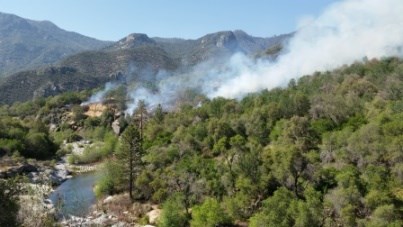 These parks have a very active fire-management program. This includes a wildland firefighting program, a prescribed-fire program, and a structural-fire program.

For the official status of any fires in the parks please visit Inciweb (short for Incident Website) at: https://inciweb.nwcg.gov/

You can narrow the view, by selecting California from the drop down menu in the upper right corner of the page.

Air quality information, including forecasts for the park
, can provide resources on how reduce exposure to
smoke
, what we do, and what the public can do.
Last updated: April 15, 2022