Current Fires
There is no current large fire threat within the boundaries of Sequoia and Kings Canyon National Parks.
Avalanche Fire
Discovered on July 18, 2022, the lightning-caused Avalanche Fire is burning in steep and rugged terrain high above Cedar Grove in Kings Canyon National Park, located in designed wilderness about 1-mile north of Avalanche Peak.

There are several natural rock features surrounding the fire. Currently the fire is being monitored by air, so the parks' helicopter may be seen in the area. This fire is being suppressed using a confine and contain strategy due to limited access from the ground. If the fire moves into less steep terrain, ground firefighting personnel may be inserted to monitor or check fire spread.

There is no threat to life, property, trails, or infrastructure at this time. However, smoke can occasionally be visible from certain spots along Kings Canyon Road (CA Hwy 180 on some maps) when looking south near Roads End or from Zumwalt Meadow.

More info: https://inciweb.nwcg.gov/incident/8275/
Summit Fire
The Summit Fire was ignited by lightning on August 3, 2022, near the headwaters of the South Fork Kaweah River, a remote area just inside the southern boundary of Sequoia National Park. The fire received significant moisture and showed little to no growth until August 23. Growth since then has been moderate. The fire is burning in an area with recent fire history, including the 2020 Castle Fire.

The fire does not currently threaten any people or infrastructure. However, fire managers have decided that the best way to manage risk in this situation is to suppress the fire using an indirect strategy.

More info: https://inciweb.nwcg.gov/incident/8408/
Crawford Corral Prescribed Burn
On Monday, September 19, 2022, CAL FIRE personnel will be conducting a prescribed burn off the Shade Quarter Fire Control Road in Badger, CA in cooperation with Tulare County Fire Department and City of Visalia Fire Department. This burn will take about three days to complete. Smoke may be visible from parts of Sequoia and Kings Canyon National Parks.

For more information of sources of smoke and the currently area quality for your area, visit fire.airnow.gov


Information about Previous Fires:
Tharps–Hazelwood Prescribed Burn
The Tharps–Hazelwood Prescribed Burn that began on June 9 in the Giant Forest area has concluded. Smoke may linger in the area and the fire crew continues to monitor the burn footprint. All trails in this area have reopened, though off-trail areas in the fire's footprint will remain closed until conditions are safe for hikers. To learn more about the beneficial effects of this prescribed fire, please read the news release issued at the end of the project.
Siberian Fire
Discovered on July 19, 2022, the small lightning-caused fire in the eastern edge of Sequoia National Park wilderness located near the Siberian Outpost between the Pacific Crest Trail (PCT) and Siberian Pass Creek is less than 1-acre in size and showing very low or no activity as of August, 2022. Backcountry hikers on trails such as the PCT may occasionally see smoke from the fire but there are no threats to visitors or resources at this time.
Fire-related Closures
Some trail closures remain in effect due to impacts from the 2021 KNP Complex Fire.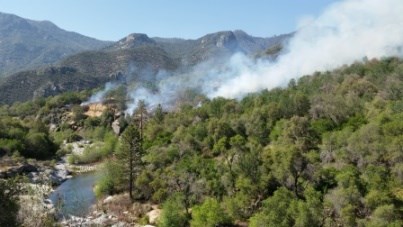 For the official status of any fires in the parks please visit Inciweb (short for Incident Website) at: https://inciweb.nwcg.gov/

You can narrow the view, by selecting California from the drop down menu in the upper right corner of the page.

Air quality information, including forecasts for the park, can provide resources on how reduce exposure to smoke, what we do, and what the public can do.

If you spot a fire burning in the parks, please report by dialing 911.
Last updated: September 17, 2022