Wild or Prescribed: Two Kinds of Fire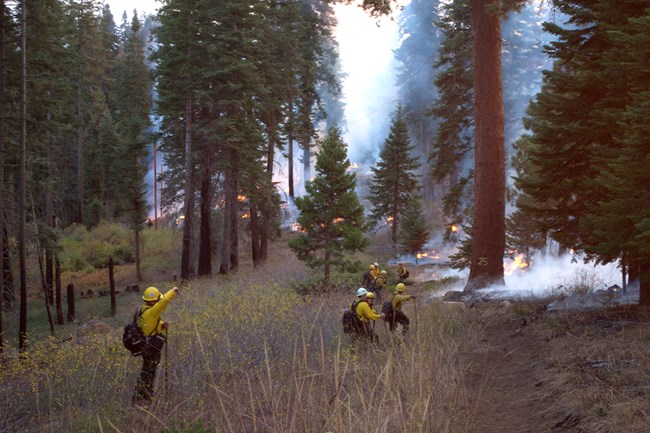 The story of fire can be confusing. The public is asked to prevent wildfires, yet park personnel set prescribed fires. Fires are given different labels, depending on whether or not they are wanted.
Wildland fire staff has the job of managing fire, regardless of the cause. Some fires are suppressed because they threaten lives, property, survival of the forest, or because they are too difficult to manage when and where they start. Fire suppression is a tremendous risk to firefighters, and consumes millions of tax dollars. The Kaweah Fire in August 1996 was started by a car's exhaust pipe in dry grass on a road shoulder. It burned 4,479 acres, risked the safety of over 1,500 fire fighters, and cost $4 million.
On the other hand, fire does contribute to forest health and public safety. Prescribed fire is a carefully managed tool to achieve such goals. A fire's "prescription" includes detailed analyses of geographic and ecological conditions. A prescription is the window within which a fire may be ignited. These conditions maximize fire staff ability to control the fire and to minimize smoke in local communities. If the weather doesn't meet the prescription, the fire is not ignited.
Why use a tool that appears to be as destructive as fire? Burning around buildings clears grass and other flammable material that would feed destructive fires. Other fires play important ecological roles. Lightning fires have burned frequently for centuries. Some plant species, including giant sequoias, reproduce better after fire. An ash seedbed is critical to germination and growth of sequoia seedlings. Fire also opens the forest canopy, allowing sunlight to reach the seedlings. Historically, widespread fires have burned in sequoia groves at average intervals ranging from 6 to 35 years, depending on the time frame. In the past century, suppression of fire by forest managers has blocked this important process. Vast accumulations of deadwood increase wildfire hazards dramatically, and sequoias do not reproduce. Animal species also benefit as increased acorn production, abundant berries and herbaceous plants that come in after a fire provide increased forage for wildlife.
To reduce hazards and restore natural conditions, trained crews carefully plan the size and timing of fires. For the same reasons, lightning fires that are in prescription and away from buildings are not suppressed.
Trails around prescribed fires sometimes remain open, so please use caution. Ask rangers for information, and enjoy the chance to see a powerful natural tool in managing park resources.
For more information about active fires in the parks, check the Current Fire Info webpage.
A Visual Comparison of the Benefits of Prescribed Burning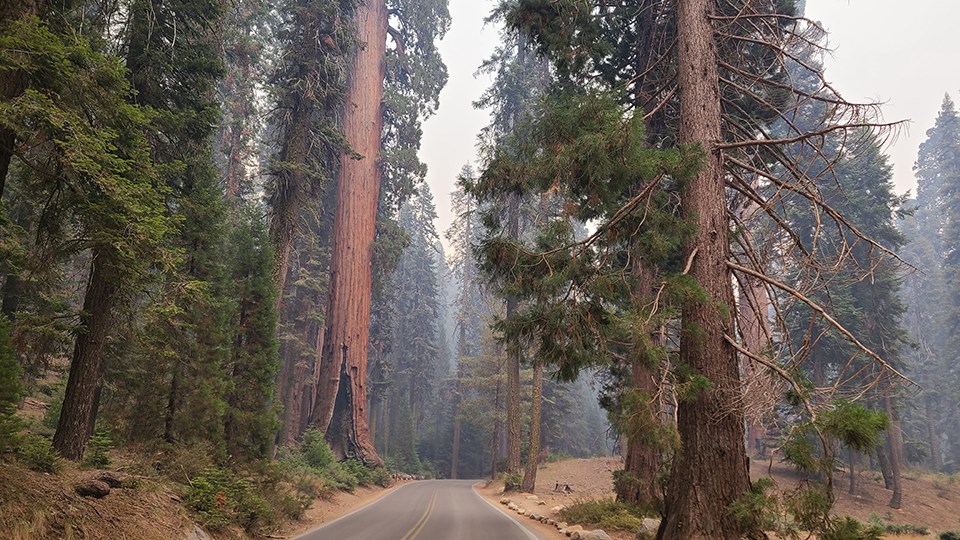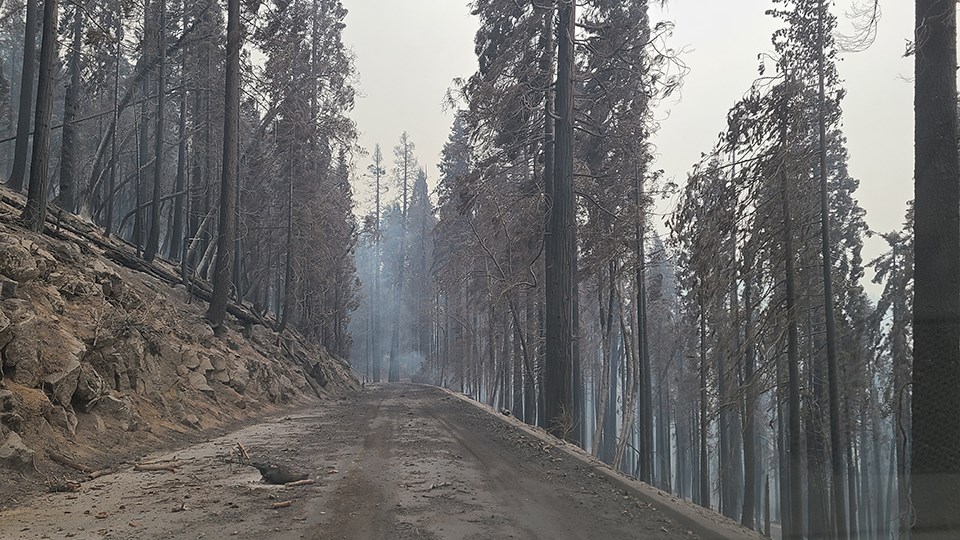 Left image
Smoke envelopes the giant sequoia grove during the 2021 KNP Fire Complex
Credit: NPS / M. Theune
Right image
Ash and debris cover a road surrounded by burned trees after a fire
Credit: NPS / M. Theune
Last updated: October 20, 2023