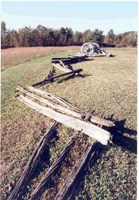 BARBER WHEATFIELD
By early October, the British had been in place for over two weeks. They were sheltered behind their hastily built defenses on ground they had "won" during fighting on September 19. By early October, and were running short on food, manpower, and time; they needed to get to Albany.
But first, they needed supplies.
On October 7, about 1700 combined British and German troops set out in a "reconnaissance in force," pulling heavy cannons to deter American interference as they scavenged for supplies and scouted out the strength of the American defenses.