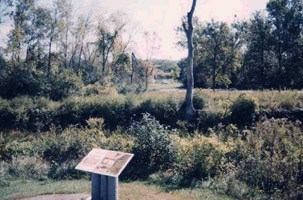 FRASIER BURIAL SITE and TRAIL
Shortly after fighting began in the Barber Wheatfield on October 7th, British General Simon Frasier was mortally wounded in the abdomen. Rushed from the field, he was brought to a cabin just north of the British River Fortifications.
In this cabin, the Baroness von Riedesel, wife of Baron von Riedesel, who commanded the German forces under General John Burgoyne, was preparing an officers' dinner party. As soldiers brought the dying Frasier into the cabin, they hastily swept the table settings to the floor and carefully placed Frasier on the table.
As he lay dying, Frasier requested to be buried in the Great Redoubt (British River Fortifications). After he died the next morning, he was buried according to his wishes.
Afterward, the British continued preparing for their northward retreat.