News Release
Flash Flooding Causes Closures at Saratoga National Historical Park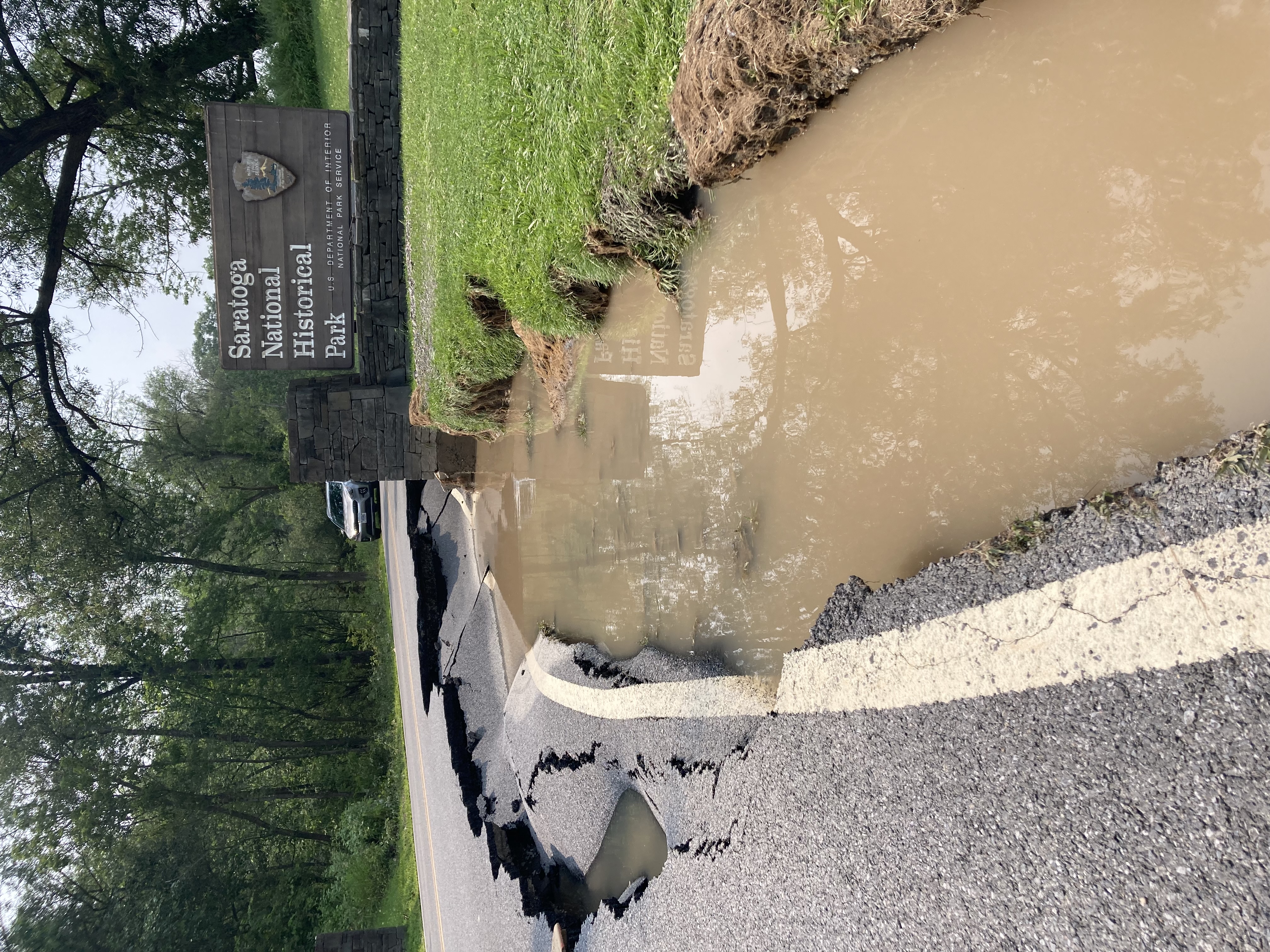 News Release Date:
July 17, 2023
Contact: Leslie Morlock, (518) 538-0031
Torrential rainfall the evening of July 16 caused flash flooding in parts of Saratoga National Historical Park. This flooding caused substantial damage to the park's eastern entrance at Route 4 and at numerous locations along the park's hiking trails, including the Wilkinson Trail. Evaluations of the damage continue, but early indications are that significant repairs will be needed to safely reopen the affected areas. Therefore, the Route 4 entrance and all hiking trails at the Saratoga Battlefield are closed indefinitely. In addition, the Park Entrance Road is closed just east of the Battlefield Tour Road exit making transit between Route 32 and Route 4 impossible at this time. Access to the park is currently available through the western entrance from Route 32. The Visitor Center and Battlefield Tour Road, Schuyler House, Sword Surrender Site Grounds, and Monument grounds will operate on their usual schedules and programming and events will continue as scheduled. Updated information will be available on the park website at nps.gov/sara.  
—NPS—
 
About Saratoga National Historical Park:
This unit of the National Park Service preserves, protects and interprets the sites associated with the battles, siege and surrender of the British forces at Saratoga. The park encompasses five sites including the Saratoga Battlefield, General Philip Schuyler's House, Victory Woods, the Saratoga Monument and Sword Surrender Site totaling 3,579 acres. It was here in September and October 1777, during the American War for Independence, that American troops battled and defeated the British invasion force. A British Army surrendered, for the first time in history, on October 17, 1777. This crucial victory secured essential foreign recognition and support and boosted the morale of the American forces making it a decisive moment in the American Revolution. For more information about Saratoga National Historical Park, please call the Visitor Center at (518) 670-2985, visit
www.nps.gov/sara
or find the park on Facebook or Twitter @SaratogaNHP.
About the National Park Service:
More than 20,000 National Park Service employees care for more than 400 national park sites and work with communities across the nation to help preserve local history and create close-to-home recreational opportunities. Learn more at
www.nps.gov
, and on
Facebook
,
Instagram
,
Twitter
, and
YouTube
.
Last updated: July 17, 2023