History & Culture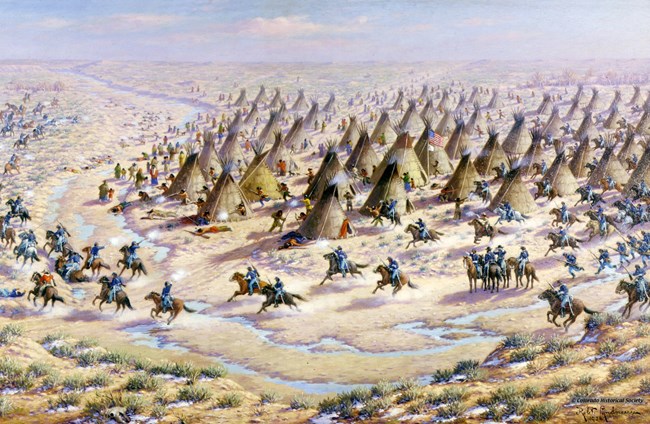 At dawn on November 29, 1864, approximately 675 U.S. volunteer soldiers commanded by Colonel John M. Chivington attacked a village of about 750 Cheyenne and Arapaho Indians along Sand Creek in southeastern Colorado Territory. Using small arms and howitzer fire, the troops drove the people out of their camp. While many managed to escape the initial onslaught, others, particularly noncombatant women, children, and the elderly fled into and up the bottom of the dry stream bed. The soldiers followed, shooting at them as they struggled through the sandy earth.
At a point several hundred yards above the village, the women and children frantically excavated pits and trenches along either side of the streambed to protect themselves. Some adult men attempted to hold back the Army with whatever weapons they had managed to retrieve from the camp, and at several places along Sand Creek the soldiers shot people from opposite banks and brought forward the howitzers to assault their improvised defenses. Over the course of eight hours the troops killed around 230 Cheyenne and Arapaho people composed mostly of women, children, and the elderly. During the afternoon and following day, the soldiers wandered over the field committing atrocities on the dead before departing the scene on December 1 to resume campaigning.
Since the barbarism of November 29, the Sand Creek Massacre maintains its station as one of the most emotionally charged and controversial events in American history, a tragedy reflective of its time and place. The background of the Sand Creek Massacre lay in a whirlwind of events and issues registered by the ongoing Civil War in the East and West; the overreactions by whites on the frontier to the 1862–1863 Dakota uprising in Minnesota and its aftermath; the status of the various bands of Southern Cheyenne and Arapaho Indians relative to each other as well as other plains tribes; the constant undercurrent of threatened Confederate incursions; and the existing state of politics in Colorado including the intrigues of individual politicians in that territory. Perhaps most important, the seeds of the Sand Creek Massacre lay in the presence of two historically discordant cultures within a geographical area that both coveted for disparate reasons, an avoidable situation that resulted in tragedy.
---
In 2000, manuscript copies of letters from Captain Silas Soule and Lieutenant Joseph Cramer were found in Denver. These letters, as firsthand accounts of the massacre, reveal the moral resistance of some of the soldiers to the barbarism that surrounded them. As primary sources, these letters show much about the atrocities at Sand Creek while also demonstrating how a hundred men stood in resistance to orders.
Looking for more information?
Explore the other pages in this section to learn more.
Last updated: June 25, 2020