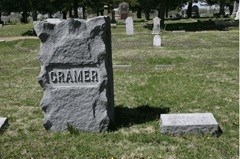 Born in 1838 in New York, Joseph Cramer grew into a confident young man and respected officer. As a miner, soldier, officer, and sheriff, his vocations brought him into contact with some of the most powerful men in Colorado. Lieutenant Cramer earned their ire when he proved the power of conscientious objection to Sand Creek in 1864.
History shrouds the early life of Cramer, whose quest for wealth and prosperity led him to Colorado as one of the gold-seekers of 1859-1860. Living in the Central City area, Cramer's life in Colorado remained primitive, difficult, and poor. Few gold-seekers found the wealth they expected, but settlements in Denver City, Boulder City, Golden City, Auraria, and the mountain country continued to grow despite these hindrances.
By the beginning of the Civil War in 1861, many of Cramer's contemporaries had grown sick and disheartened of the hardscrabble work and lack of pay in the gold mines. Cramer and his peers jumped at the chance for steady federal food, clothing, housing, and pay. These men formed the nucleus for the First Infantry Regiment, Colorado Volunteers (U.S.), known as "Gilpin's Pet Lambs" for the governor's enthusiasm for recruitment. Cramer's service in the Army immediately brought him into contact with warfare, the plains, pain, and death. The First marched south to Glorieta Pass almost as soon as it formed, where Union forces stopped a Confederate attempt to seize the Colorado gold fields in 1862. Cramer likely enlisted and served in the battle. Regardless, Cramer then helped guard Colorado trails as the First Colorado reorganized into a cavalry regiment. In 1863, Cramer received a promotion to 2nd Lieutenant and became an officer, illustrating his skill and expertise.
Lt. Cramer participated in the so-called Indian War of 1864, where escalating tensions led to attacks and reprisals from both sides. While pursuing a band of Arapaho led by Neva in August, Cramer's horse threw him and he suffered a significant back injury that would eventually help kill him. Ironically, Cramer chased Neva with intent to fight and kill, while Neva held back his men from annihilating the scattered troopers because of his peace mission, as he was carrying a letter from several Cheyenne and Arapaho chiefs seeking peace.
Fortunately, other letters carried by Lone Bear and Eagle Head successfully made their way to Major Wynkoop in September, which led to an expedition to the Smoky Hill River. Cramer accompanied Cheyenne and Arapaho chiefs to the Camp Weld Council, guarding the attendees while watching the peace talks. He saw Black Kettle's commitment to peace and Major Scott Anthony's later promise of safety. In late November, Lt. Cramer protested Colonel John Chivington's plan for an attack on the Cheyenne and Arapaho at Sand Creek because of these peace overtures. In response, Major Anthony and Colonel Chivington guaranteed safety for the peace chiefs.
Despite these promises, Lt. Cramer watched with horror as U.S Army troops swarmed onto Sand Creek, murdering men, women, and children without hesitation. Not only did these men butcher peaceful Cheyenne and Arapaho, but then mutilated the bodies, looted the village, and killed prisoners. Cramer and his men refused to participate.
After testifying against Colonel Chivington in Denver in the spring of 1865, Lt. Cramer mustered out of the regiment and moved back east, where he married Hattie Phelps. The newly married man sought a career as an Indian agent, but eventually moved to Solomon, Kansas and found a position as a clerk. There, Hattie died three years into the marriage. Following his wedding to Augusta Hunt in 1869, a bedridden Joseph Cramer passed away from his back injury at the age of thirty-three, shortly after election to the Sheriff's office of Dickinson County, Kansas