Biography of Black Kettle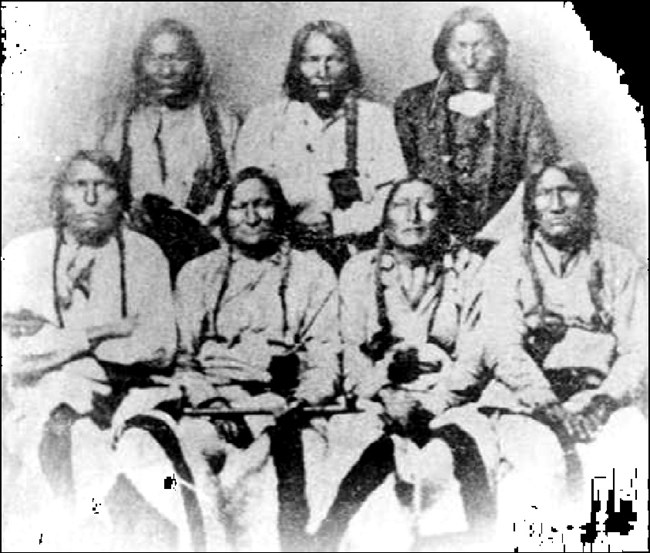 Chief Black Kettle was a member of the Council of 44 Chiefs of the Cheyenne people, and an advocate for peace. He demonstrated his commitment to peace by participating in several councils before the Sand Creek Massacre, hoping to secure peace through negotiations with the American Military and Government. He then reinforced this commitment by continuing to advocate for peace after the Sand Creek Massacre, despite his wife's severe wounds and the death of most other peace chiefs and headmen present at the Sand Creek Massacre.
Black Kettle was born around 1803 in the Black Hills of modern day South Dakota. He was a Suhtai, meaning "Buffalo People," which is a band within the Cheyenne. He is the son of Swift Hawk Lying Down (Hawk Stretched Out) and Sparrow Hawk Woman (Little Brown-Back Hawk Woman). His siblings were Gentle Horse, Wind Woman, and Wolf (aka Stone Teeth, Iron Teeth, or Black Dog). In 1854, Black Kettle's father-in-law died and made Black Kettle the chief of the Wutapiu band.
With the movement of White gold-seekers to Colorado in 1859, Chief Black Kettle advocated a policy of peace and accommodation. He signed the Fort Wise Treaty of 1861 to obtain secure lands for his people; this treaty proved untenable by either side, though it was broken first by the actions of the American colonist. Time and again, Chief Black Kettle worked to find peace for his people, and safety for the generations of Cheyenne and Arapaho people who trusted their lives with him.
Unfortunately, the increasing tensions of 1864 dragged the peace effort down. With the murder of Lean Bear by the American Colonist angering the Native Americans and the deaths of the Hungate Family roiling the fury of the American Colonist, in the spring and summer of 1864 respectively, war broke out amongst the Great Plains. Chief Black Kettle tried to communicate with Volunteer U.S. Army units to negotiate peace, but his efforts proved futile. In one last effort to negotiate peace, Chief Black Kettle dispatched One Eye to deliver a letter to Major Edward Wynkoop, the commanding officer at Fort Lyon.
It was these letters, pleading for peace, and the promise of four freed White captives, Chief Black Kettle was successful in securing a council with Major Wynkoop in the Camp Weld Conference, held on September 28, 1864. There, Chief Black Kettle said, "All we ask is that we have peace with the whites. We want to hold you by the hand. You are our father." Reporting to Fort Lyon, Chief Black Kettle was directed by the American Military to return to Sand Creek to await an official Army delegation. It was there at the Sand Creek Massacre that Chief Black Kettle's wife, Medicine Woman Later, suffered nine bullet and shrapnel wounds in the attack. George Bent noted that, "Black Kettle's band, the clan he was in charge of 'Wu-ta-pi-u' were nearly all killed at Chivington's Massacre at Sand Creek in 1864. Only few men were left." At the Little Arkansas Treaty in 1865 and Medicine Lodge in 1867, Chief Black Kettle continued to ask for peace with the United States and a reservation for his people.
Chief Black Kettle died at Washita, November 27, 1868, almost four years exactly after the Sand Creek Massacre. Troops of the 7th U.S. Cavalry shot and killed him and Medicine Woman Later as they fled across the Washita River. The site of the Battle of Washita is now a unit of the National Park Service.
You can learn more about the Washita Battlefield National Historic Site on their website here.
Last updated: September 10, 2022