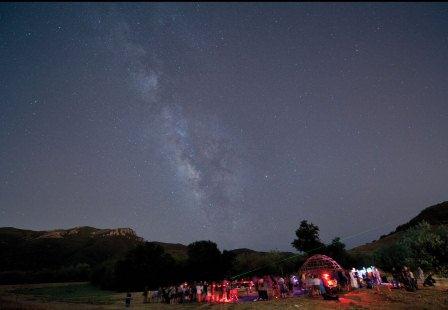 News Release Date:
January 7, 2013
Contact: Kate Kuykendall, 805-370-2343
AGOURA HILLS, Calif. - The National Park Service will co-host a Winter Sky Star Party from 5:00 p.m. to 8:00 p.m. on Saturday, January 19 at Paramount Ranch in Agoura Hills.
"Star parties are an opportunity to connect with our beautiful night sky," said Robert Cromwell, park ranger for the National Park Service. "It just adds to the experience to have so many experts helping us interpret what we're seeing and making it understandable for all ages."
The free event will begin with the Santa Monica Mountains Ranger Band playing astronomy-themed rock music, followed by a series of family-friendly lectures and constellation tours by Cal Lutheran University Professor Mike Shaw, as well as astronomers from the National Park Service, Ventura County Astronomical Society and Griffith Observatory.
Attendees can expect to view a partial moon, Jupiter and its moons, the Orion Nebula and more.
Astronomy enthusiasts are encouraged to bring their own telescopes, if available, as well as flashlights and warm clothing.
Paramount Ranch is located at 2903 Cornell Road in Agoura Hills. In the event of rain, the program will be canceled. For further information, call 805-370-2301.
About Santa Monica Mountains National Recreation Area:
Santa Monica Mountains National Recreation Area (SMMNRA) is the largest urban national park in the country, encompassing more than 150,000 acres of mountains and coastline in Ventura and Los Angeles counties. A unit of the National Park Service, it comprises a seamless network of local, state, and federal parks interwoven with private lands and communities. As one of only five Mediterranean ecosystems in the world, SMMNRA preserves the rich biological diversity of more than 450 animal species and 26 distinct plant communities. For more information, visit www.nps.gov/samo.
###