National Park Service Begins Tracking Mountain Lions in the Verdugo Mountains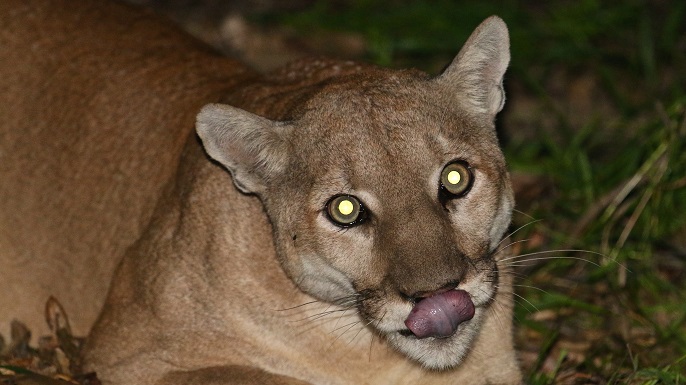 News Release Date:
May 29, 2015
Contact: Kate Kuykendall, 805-370-2343
THOUSAND OAKS, Calif. -- National Park Service biologists captured a mountain lion in the Verdugo Mountains on May 7, marking the first time a large carnivore has been studied in that small and isolated mountain range.
Based on tooth wear and measurements, researchers estimate the adult male now known as P-41, for Puma 41, is approximately 8 years old.  After outfitting the lion with a GPS collar, recording measurements and collecting blood and tissue samples, biologists released the 130-pound animal at the capture site.
"We hope to learn more about landscape connectivity and movement corridors in the region," said Dr. Seth Riley, a wildlife ecologist with the National Park Service. "There's really no way to fully understand and conserve mountain lions in the Santa Monica Mountains without understanding their movements across the larger landscape."
Riley and his team are unsure whether P-41 will remain in the Verdugos or whether he uses the southern San Gabriel Mountains as part of his territory, which would involve crossing the 210 Freeway.
With only 19 square miles of natural habitat, the Verdugos would be a relatively small home range for an adult male mountain lion. Males can have home ranges up to 250 square miles, although the Griffith Park animal known as P-22 has a home range of only about eight square miles. P22 is believed to have the smallest home range of any adult male mountain lion ever recorded.
The Verdugo Mountains are a small, isolated mountain range that include portions of the cities of Burbank, Glendale and Los Angeles. Though they are located only a few miles from the eastern end of the Santa Monica Mountains, scientists believe there may be significant genetic differentiation between mountain lion populations in the two ranges, and they have no evidence of movement between them. The San Gabriel Mountains, believed to have a large mountain lion population, lie only about one mile to the northeast of the Verdugos.
Since 2002, the National Park Service has been studying mountain lions in and around the Santa Monica Mountains to determine how they survive in an increasingly urbanized environment. Scientists are currently tracking 11 animals in the region (see attached map).
Mountain lions are solitary animals and sightings are extremely rare. For more information about living in mountain lion country, refer to the California Department of Fish and Wildlife resources available at www.wildlife.ca.gov/Keep-Me-Wild/Lion.
Santa Monica Mountains National Recreation Area (SMMNRA) is the largest urban national park in the country, encompassing more than 150,000 acres of mountains and coastline in Ventura and Los Angeles counties. A unit of the National Park Service, it comprises a seamless network of local, state, and federal parks interwoven with private land and communities. As one of only five Mediterranean ecosystems in the world, SMMNRA preserves the rich biological diversity of more than 450 animal species and 26 distinct plant communities. For more information, visit www.nps.gov/samo.
###
Last updated: November 1, 2018