Date:
March 21, 2009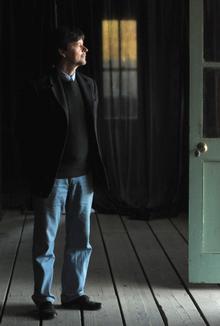 Filmmaker's work to air on PBS in fall
History "is a place where we can all gather," filmmaker Ken Burns noted Thursday evening during an interview in an old saloon.
So, too, are our national parks, the subject of Burns' next opus that will air this fall on PBS. Burns and about 2,000 people gathered for an outdoor "sneak preview" of his film "The National Parks: America's Best Idea" at Paramount Ranch south of Agoura Hills.
The place explained the saloon, part of a Western town set on an old Paramount Studios lot in the scenic Santa Monica Mountains.
The saloon wasn't real, but the outpouring of love for Burns and his film were. His almost-one-hour montage received a standing ovation from the near-capacity crowd at night's end. The film — thoughtful, reflective, powerful — is vintage Burns, another of his pulse takes on America's institutions and characters á la his long looks at jazz, the Civil War, baseball, Mark Twain and other subjects.
"It was wonderful. I can't wait to see all of it in September," said Nancy Devore, a 65-year-old Westlake Village resident.
Bob Coutts, a retired teacher who lives in Oak Park, got to query Burns about his deft use of sound effects in a question-and-answer session afterward.
"He's going to reveal to people a marvelous resource for America," Coutts, 68, said. "I love the national parks. Their preservation says something about our value system."
His wife, Frances, was heartened that school kids, many from the Los Angeles Unified School District, were on hand. The film, she said, "could very well change their lives." It might renew people's spirits amid the economic crisis and show them "it's a relief to go to national parks," she said.
Parks have struggled.
The United States has 58 national parks, including Channel Islands. The national park system has 390-plus sites, including national recreation areas such as Santa Monica.
The parks, however, have struggled recently, Burns said. He took a veiled shot at the Bush administration when he told the crowd he hopes the film in some way helps "repair the last eight years of the National Park Service's existence."
Afterward, a woman asked if he could show it to President Obama earlier than its scheduled 12-hour, six-part run in late September. Obama's people, Burns replied, have the sneak preview.
The national parks, Burns said, are "democracy applied to our landscapes." For the first time in history, land was set aside not for kings but for everyone. Although rife with wildlife and gorgeous scenery, the film is more the story of people who fell in love with and helped preserve such places — people rich and poor; black, white, brown, yellow and red.
"It is one of the greatest and most inspiring stories I have ever come across," Burns said.
The film has such color, including Yosemite park ranger Shelton Johnson, who was on hand Thursday. Johnson noted that African-American "buffalo soldiers" were among the first protectors of California's national parks around the turn of the last century. They also built the first trail to the top of Mount Whitney.
"I'm using this history to try to attract African-Americans to the parks," Johnson said in an interview on the Western town set. "And I'm hoping my presence in the film is a spur, a trigger."
Their reluctance to visit national parks, Johnson said, is rooted in slavery and a resulting distrust of rural areas, which they have to travel through to get to many parks. Johnson wants them to "rise above that fear."
Prohibition next film
The 55-year-old Burns was accorded rock-star treatment wherever he went, rare for someone who does documentaries. Earlier at the saloon, Burns brushed off his status, saying, "Any amount of notoriety I get, plus 50 cents, will buy me a cup of coffee. It's not about the length of your résumé, it's about the content of your character."
He allowed that he's gratified that tens of millions of Americans have watched his films and that they've changed people's attitudes. Maybe it was fitting he was in a saloon; Burns will next tackle the history of Prohibition for PBS in 2010.
KCET's Huell Howser, who moderated Thursday's event, was an inimitable, folksy ham, posing for pictures with seemingly everyone. Howser, host of such shows as "California's Gold," has done programs on Yosemite, Death Valley and other parks.
"The best days of my life have been spent in parks," Howser said as he walked through the Western town set. "The people there, the rangers and the docents, are the finest I've met."
He had equal praise for Burns, calling him "an extraordinarily gifted, sensitive and dedicated person. His work will leave a legacy for our future generations to enjoy. He's helped us understand not only history but ourselves."