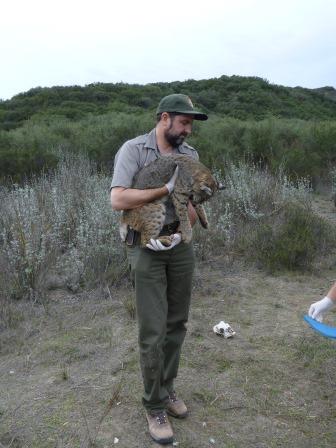 News Release Date:
August 30, 2013
Contact: Kate Kuykendall, 805-370-2343
AGOURA HILLS, Calif. – Urban wildlife expert Dr. Seth Riley will discuss the state of carnivores in the Santa Monica Mountains on Saturday, September 7 from 1:00 to 3:00 p.m. at King Gillette Ranch in Calabasas. 
"Studying how carnivores are impacted by urbanization and habitat fragmentation has been a lifelong interest of mine," said Riley, a wildlife ecologist for Santa Monica Mountains National Recreation Area. "I'm excited to share what we've learned here in the Santa Monica Mountains with the public."
For more than a decade, Riley has researched the area's mountain lions, bobcats and coyotes. Because of their large home ranges and territorial nature, mountain lions face several challenges to survival. The Santa Monica Mountains are an island of habitat, surrounded on all sides by freeways, the Pacific Ocean and an agricultural plain. 
Co-sponsored by Western National Parks Association, the lecture will feature discussion of National Park Service research, as well as amazing photographs and anecdotes of how animals survive and even thrive in an increasingly urbanized environment.
Riley will be available to sign his book, Urban Carnivores: Ecology, Conflict & Conservation, after the program.
Reservations are appreciated but not necessary: 805-370-2302 or samo@wnpa.org. 
DIRECTIONS: King Gillette Ranch is located at 26800 Mulholland Highway in the Calabasas area. The lecture will be held in the auditorium. Free parking.
Santa Monica Mountains National Recreation Area (SMMNRA) is the largest urban national park in the country, encompassing more than 150,000 acres of mountains and coastline in Ventura and Los Angeles counties. A unit of the National Park System, it comprises a seamless network of local, state and federal parks interwoven with private lands and communities. As one of only five Mediterranean ecosystems in the world, SMMNRA preserves the rich biological diversity of more than 450 animal species and 26 distinct plant communities. For more information, visit www.nps.gov/samo. 
 ###