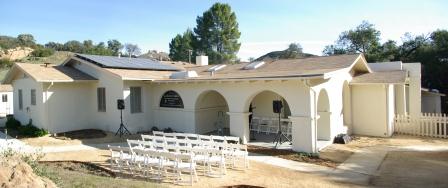 News Release Date:
January 28, 2013
Contact: Kate Kuykendall (NPS), 805-370-2343
Contact: Alison Hewitt, 310-206-5461
THOUSAND OAKS, Calif.-- UCLA and the National Park Service opened a field station in the Santa Monica Mountains Tuesday, providing a new headquarters and center of operations for the university's La Kretz Center for California Conservation Science. 
The field station is housed in facilities provided by the National Park Service, and is dedicated to improving conservation science in the greater Los Angeles area. It was renovated through the generosity of philanthropist Morton La Kretz to serve as an off-campus location for meetings, small classes, workshops, overnight guests and research support. The station forms the headquarters for the La Kretz Center's activities with its three primary partners, the National Park Service, California State Parks, and the Mountains Recreation and Conservation Authority. 
"The La Kretz Center Field Station will bring UCLA's world-class research to bear on challenges facing one of the nation's largest urban national parks," said David Szymanski, superintendent of Santa Monica Mountains National Recreation Area. "Our work together will help us to better protect and restore Southern California's Santa Monica Mountains." 
Based within UCLA's Institute of the Environment and Sustainability, the La Kretz Center unites UCLA researchers with scientists and managers from its partner agencies.  
"This collaboration ensures that the university's latest science reaches park managers, and that UCLA scientists learn what research is most needed," said Glen MacDonald, director of the Institute of the Environment and Sustainability. "It also provides us with the opportunity to work with top-notch scientists, managers and other staff in these agencies on real problems that will help our region. UCLA provides the agencies with cutting-edge research, and the benefits flow both ways." 
Creating the field station is a project that began three years ago when Morton La Kretz, a UCLA alumnus, provided an endowment to create the La Kretz Center.  
The field station will serve as an off-campus headquarters for La Kretz Center activities. It will encourage more people to do conservation research in the Los Angeles area, said UCLA conservation biologist Brad Shaffer, the director of the La Kretz Center and a professor with joint appointments in the Institute of the Environment and Sustainability, and the Department of Ecology and Evolutionary Biology. 
"Having a home base in the middle of the Santa Monica Mountains makes it much more attractive to do research," Shaffer said. "For the first time, we have a building where students, researchers and our agency partners can work, brainstorm, and stay in the mountains." 
The search for a center headquarters became a reality when the National Park Service made the property available to UCLA through a joint-use agreement. The La Kretz Center is launching an array of new initiatives, with the field station as a centerpiece, Shaffer explained. New and upcoming projects include:
A small grant program to jumpstart graduate students' research on local conservation management projects. 
A program to recruit post-Ph.D. scientists to UCLA to work with the La Kretz Center and its agency partners.
The California Conservation Genomics initiative, which will use cutting-edge conservation genomics tools to examine how well California's public lands are protecting endangered species. 
The field station will provide a welcome respite for field researchers who need 24-hour access to their study sites, said Felicia Federico, an environmental scientist and executive director of the La Kretz Center. "Research doesn't take place just during business hours," Federico noted. "In addition to supporting research generally throughout the mountains, we see an exciting opportunity for the station property itself to host focused research." 
Santa Monica Mountains National Recreation Area (SMMNRA) is the largest urban national park in the country, encompassing more than 150,000 acres of mountains and coastline in Ventura and Los Angeles counties. A unit ofthe National Park Service, it comprises a seamless network of local, state, and federal parks interwoven with private lands and communities. As one of only five Mediterranean ecosystems in the world, SMMNRA preserves the rich biological diversity of more than 450 animal species and 26 distinct plant communities. For more information, visit www.nps.gov/samo. 
UCLA is California's largest university, with an enrollment of more than 40,000 undergraduate and graduate students. The UCLA College of Letters and Science and the university's 11 professional schools feature renowned faculty and offer 337 degree programs and majors. UCLA is a national and international leader in the breadth and quality of its academic, research, health care, cultural, continuing education and athletic programs. Six alumni and six faculty have been awarded the Nobel Prize. 
###