Date:
December 3, 2009
Contact:
Lauren Newman
, 805-370-2343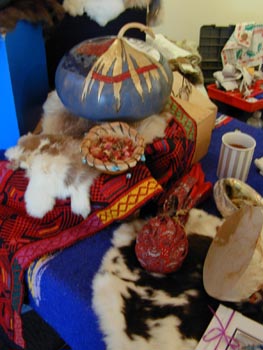 On Sunday, December 6 from 10 am-3pm, the Santa Monica Mountains National Recreation Area will host a day of hand crafted art, music, and family fun at the scenic Satwiwa Culture Center.
Regional artists will bring many items for display and sale.  Author and photographer Valena Broussard Dismukes will showcase her award winning book Red-Black Connection, as well as bring traditional and contemporary Indian artwork.  This is her first time participating in the Satwiwa Winter Solstice Show, and she looks forward to sharing her work with a new audience.
Also participating this year will be longtime Satwiwa Culture Center guest artist Nadiya Littlewarrior.  Nadiya will bring her collection of gourd art and visitors will have the opportunity to learn more about the art form and its significance.   About her artistic process, Nadiya said "People ask me if I make the gourds.  I tell them that the Creator makes the gourds and I get to dress them up." 
The Satwiwa Winter Solstice Art Show and Sale has been an annual event for over ten years.  It will be an opportunity for families to learn more about traditional and contemporary indigenous life ways, discover new art forms, and enjoy the winter season. 
Directions:
The Satwiwa Culture Center main parking lot is at the intersection of Lynn Road (in Google Maps it is West Potrero Road) and Via Goleta on the south side. Follow the entrance road to the end for a parking lot, restroom facilities, and a 1/4 mile trail to Satwiwa. 
Accessible parking is available via the Service Entrance.  From US 101, exit Wendy Drive. Turn left at stoplight and continue south on Wendy Drive until it ends (2.6 miles). Turn right on Potrero Road. Go 0.3 miles to the stop sign and turn left to continue on Potrero Road.  Follow the fence line on left to Gate 1 that says "AUTHORIZED vehicles only".  Visitors with accessibility placards are eligible to enter.  Turn Left.  Proceed straight on the service road for approximately 0.25 miles.  A ranger or volunteer will direct and assist you.