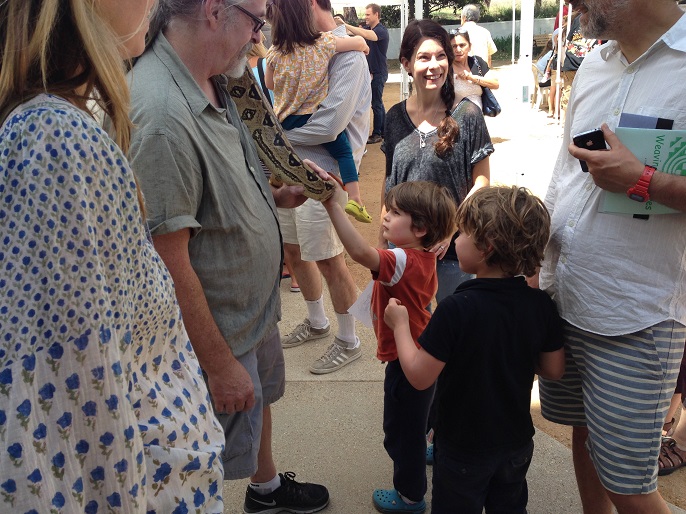 News Release Date:
September 8, 2015
Contact: Kate Kuykendall, 805-370-2343
CALABASAS, Calif. – Fans of all things slithery and scaly are invited to attend the Live Reptile and Amphibian Show at the Santa Monica Mountains Visitor Center on Sunday, September 20 from 
10:00 a.m. until 4:00 p.m.
"This is a special chance to get up close and personal with these amazing and often misunderstood animals," said Sophia Wong, store and events manager for the Western National Parks Association. "This day will offer an amazing opportunity to explore the fascinating world of herpetology."
Approximately 100 live animals will be on display. Visitors are invited to gently touch most of the animals with two fingers. Wildlife experts including biologists from the National Park Service will make presentations throughout the day. A Chumash opening ceremony. Live music and a food vendor will round out the activities.
Speaker Program:
11AM & 1PM
 | 
Exotic Reptiles & Amphibians from Around the Globe - 
Karl Miller, Film Fauna International
11AM | Reptiles on the Channel Islands: The Few & the Funky, Tim Coonan, National Park Service
12PM | Lizard & Snake Biodiversity in the Santa Monica Mountains, Katy Delany, National Park Service
1PM
 | Reproduction of the Rare Frugivorous Monitor Lizard: L.A. Zoo's Varanus olivaceus
, Ian Recchio, Los Angeles Zoo
2PM | A Malibu Newt: Not a Movie Star Life, Lee Kats, Pepperdine University
3PM
 | Reptile & Amphibian Discoveries by Southern California's Citizen Scientist Army, Greg Pauly, Natural History Museurm of Los Angeles County
The program and parking are free.
The event is co-sponsored by Western National Parks Association, Southwestern Herpetologists Society, the National Park Service and the Mountains Recreation and Conservation Authority. For more information, email 
samo@wnpa.org
 or call 805-370-2302.
DIRECTIONS: Santa Monica Mountains Interagency Visitor Center is located on the grounds of King Gillette Ranch, at 26876 Mulholland Highway in the Calabasas area. Free parking.
###