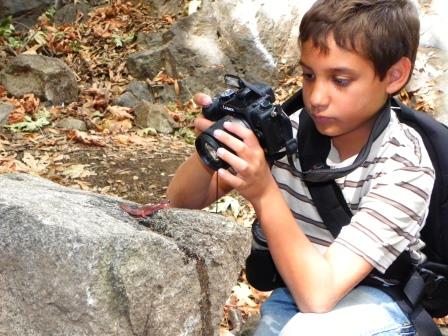 News Release Date:
September 24, 2013
Contact: Kate Kuykendall, 805-370-2343
CALABASAS, Calif. – Fans of all things slithery and scaly are invited to attend the Live Reptile and Amphibian Show at the Santa Monica Mountains Visitor Center on Sunday, October 6 from 10:00 a.m. until 3:00 p.m. 
Guest speakers from Cal State Northridge, the National Park Service, Southwestern Herpetologists Society and UCLA will be speaking at 11, 12, 1 and 2:00 p.m. Topics include California newts, venomous reptiles, desert lizards and the re-introduction of the California red-legged frog. 
"We are very excited about sharing our love, knowledge and respect for reptiles and amphibians," said Sharon Shingai, chairperson of the Southwestern Herpetologists Society's Junior Herpers group. "We cordially invite all who are interested to explore the fascinating world of herpetology." 
In addition to the special presentations, members of the group will be available throughout the event displaying approximately 100 live animals. Visitors are invited to touch most of the animals with two fingers. 
Eleven-year-old herpetologist and accomplished photographer Nick Hess will display his photographs inside the visitor center.
The event is co-sponsored by the Mountains Recreation and Conservation Authority, National Park Service, Southwestern Herpetologists Society and Western National Parks Association. For more information, call 805-370-2302.
DIRECTIONS: The Santa Monica Mountains Visitor Center is located at King Gillette Ranch, at 26876 Mulholland Highway (just east of Las Virgenes Road), Calabasas, CA 91302. Free parking.
###