Rare Frogs Find New Home in California State Parks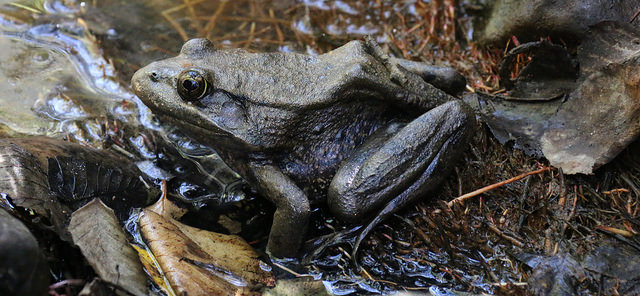 News Release Date:
March 3, 2016
Contact: Ashley Spratt, U.S. Fish and Wildlife Service, (805) 644-1766 ext. 369
Contact: Suzanne Goode, California State Parks, (818) 880-0350
Contact: Kate Kuykendall, National Park Serivce, (805) 370-2343
VENTURA, Calif. - A rare amphibian that has been lost from 70 percent of its historical range has been given a fighting chance to repopulate on state-protected lands in Los Angeles and Ventura counties.
The U.S. Fish and Wildlife Service (Service) and California State Parks have signed a Safe Harbor Agreement, a 50-year voluntary conservation agreement, that calls for the reestablishment of California red-legged frog (Rana draytonii) populations across four state parks in southern California, covering more than 16,000 acres of park lands. This species is both federally threatened and a state species of special concern.
"Collaborative, voluntary conservation efforts like this one are key to recovering imperiled wildlife in southern California," said Eric Morrissette, senior fish and wildlife biologist for the Service in Ventura. "Through the Safe Harbor Program, private and non-federal landowners, like California State Parks, can proactively support species' recovery by restoring or managing habitat for those species on their lands, with assurances that other land-uses, like visitor recreation opportunities or maintenance activities, are not restricted."
This week, California red-legged frog eggs were collected from an existing population site in the Simi Hills and are being transported to Leo Carrillo and Malibu Creek state parks. There, the eggs will metamorphose into tadpoles, with the goal of creating a new population of reproducing adult frogs. Only one population remains within the Santa Monica Mountains, which imperils the continued existence of the species in the region.
"The reestablishment of populations of red-legged frogs in several locations in the Santa Monica Mountains, where they once thrived but are now extirpated, will provide insurance against the loss of local populations," said Suzanne Goode, senior environmental scientist for the Angeles District of California State Parks. "Habitat fragmentation by development has made it more difficult for the species to re-populate its former range after natural disturbances such as fire and drought. This effort highlights the role that parks play in the preservation of species and a functioning ecosystem." 
While California red-legged frogs range from extreme northern portions of Baja California, Mexico to northern California, they exist in only a few watersheds at the southern part of the species' range.
This reestablishment project is part of a larger effort by the National Park Service and other conservation partners to reintroduce California red-legged frog populations in the Santa Monica Mountains. The first translocations of partial egg masses took place on two federal properties in 2014; this will be the first time re-establishment efforts have expanded to state park lands in Los Angeles and Ventura counties.
"Establishing multiple populations of California red-legged frogs in the Santa Monica Mountains is key to their long-term survival here," said Katy Delaney wildlife ecologist for the National Park Service. "Otherwise they run the risk of being wiped out from this area again."
Additional funding and support for the California red-legged frog reintroduction project has been provided by the Mountains Recreation and Conservation Authority, the Santa Barbara Zoo, the Santa Monica Bay Restoration Commission and U.S. Geological Survey's Western Ecological Research Center.
National Park Service biologists will monitor the reestablishment sites this spring and summer to evaluate the project's success. In coming years, eggs will be collected and translocated to additional reestablishment sites at Point Mugu and Topanga state parks.
The Safe Harbor Agreement also calls for the removal of invasive, non-native plants and non-native predators within the species' habitat on state park lands. Non-native amphibians like the bullfrog are known predators of the California red-legged frog and also compete for necessary resources to feed, reproduce and grow. 
Additional threats impacting California red-legged frogs, such as habitat loss and degradation due to land conversion and development, ultimately contributed to their designation as federally threatened under the Endangered Species Act in 1996. Since listing, the Service has worked alongside non-federal and private entities to utilize Safe Harbor Agreements and other conservation tools to support the species' recovery.
U.S. Fish and Wildlife Service
The mission of the U.S. Fish and Wildlife Service is working with others to conserve, protect, and enhance fish, wildlife, plants, and their habitats for the continuing benefit of the American people. We are both a leader and trusted partner in fish and wildlife conservation, known for our scientific excellence, stewardship of lands and natural resources, dedicated professionals, and commitment to public service. For more information on our work and the people who make it happen, visit http://www.fws.gov/ventura.
California State Parks
To provide for the health, inspiration and education of the people of California by helping to preserve the state's extraordinary biological diversity, protecting its most valued natural and cultural resources, and creating opportunities for high quality outdoor recreation. Learn more at www.parks.ca.gov. 
National Park Service
Santa Monica Mountains National Recreation Area (SMMNRA) is the largest urban national park in the country, encompassing more than 150,000 acres of mountains and coastline in Ventura and Los Angeles counties. A unit of the National Park Service, it comprises a seamless network of local, state and federal parks interwoven with private lands and communities. As one of only five Mediterranean ecosystems in the world, SMMNRA preserves the rich biological diversity of more than 450 animal species and 26 distinct plant communities. For more information, visit 
www.nps.gov/samo
.
Last updated: October 31, 2018