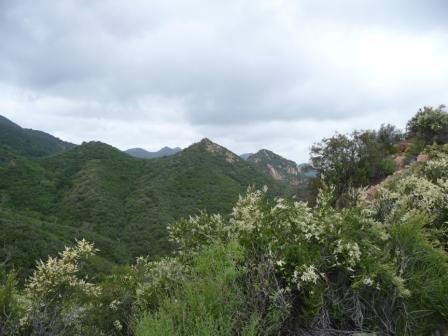 News Release Date:
April 22, 2011
Contact: Lauren Newman, (805) 370-2343
The National Park Service has purchased 160 acres of land in Los Angeles County, bringing the total public parkland within Santa Monica Mountains National Recreation Area to 79,491 acres. The three parcels have long been sought for acquisition because of their pristine natural condition and great diversity of habitat, ranging from oak and sycamore woodlands to rugged rocky outcrops.
"This is wonderful undisturbed habitat" said acting park superintendent Lorenza Fong. "The plants and animals the habitat supports are very diverse for the relatively small area covered." The lands fill in public land ownership on the north face of Castro Crest from Malibu Creek State Park to federal parkland reaching Mulholland Highway near the Rock Store, a famous motorcyclist and biker pit stop. The acquisition permanently assures habitat connectivity that was at risk from potential housing development if they were not acquired for public parkland purposes.
The source of the $1.88 million needed to acquire the parcels was the Land and Water Conservation Fund. Senator Feinstein and Congressmen Sherman and Berman introduced the legislation to fund the acquisitions in the fiscal year 2010 budget. The Trust for Public Land also contributed toward the acquisition by purchasing an acquisition option that held the property until federal funding was secured.
Santa Monica Mountains National Recreation Area is the largest urban-adjacent recreation area in the country. The national recreation area is jointly managed by California State Parks, Mountains Recreation and Conservation Authority, Santa Monica Mountains Conservancy, and the National Park Service.
Land acquisition for public parkland in the Santa Monica Mountains is a high priority for all involved agencies. In total, approximately 20,000 more acres of land are identified within the recreation area boundary as suitable priority acquisitions for park purposes. If all identified property in the Santa Monica Mountains was purchased, the total acres of public parkland would be approximately 100,000 acres out of approximately 153,250 acres total. The prioritized lands for acquisition would protect additional habitat for wildlife movement and preserve scenic views. The acquisition wish-list also includes two more parcels essential for the completion of the 65-mile Backbone Trail and coastal lands needed for the envisioned 80-mile Coastal Slope Trail.