New Study Offers Insights Into Los Angeles' Most Urban Coyotes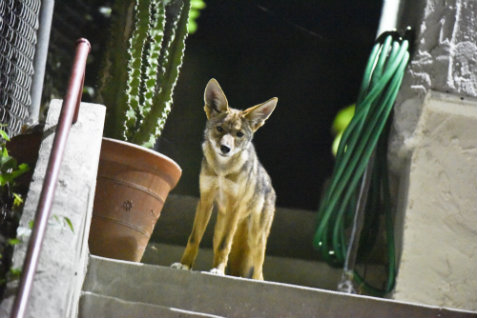 News Release Date:
July 28, 2015
Contact: Kate Kuykendall, 805-370-2343
THOUSAND OAKS, Calif. -- A National Park Service effort to better understand how coyotes survive in one of the nation's most intensely urbanized areas is providing new insights into their movements and behavior. Researchers captured two coyotes near downtown Los Angeles in May and outfitted them with GPS collars (
see map
).
"No one knew if the coyotes in these extremely urban areas were establishing their home ranges exclusively within the developed area or whether they were simply passing through on their way to natural habitat patches like Griffith Park or Elysian Park," said Justin Brown, a biologist for Santa Monica Mountains National Recreation Area. "From just a few months of data, we now know that coyotes are persisting within home ranges that have high human densities and little natural habitat, which is quite remarkable."
Although the park studied coyotes from 1996 to 2004 in the western Santa Monica Mountains along the 101 Freeway and in the highly fragmented Simi Hills, this is the first study of urban Los Angeles coyotes. GPS collars provide detailed movement data with an average of eight data points over a 24-hour period.
The first of two coyotes captured for the new project is known as C-144 because she is the 144th coyote tracked since the National Park Service began studying coyotes in Southern California. A female estimated to be two or three years old, she spends most of her time in the Westlake neighborhood, a densely populated area just west of downtown with very little natural habitat. She is currently raising at least five pups.
C-144 is believed to have one of the most urban home ranges of any coyote ever studied and has already surprised biologists by crossing the 101 Freeway several times, near where it intersects with the 110 Freeway. Decades of coyote, bobcat and mountain lion research in the Santa Monica Mountains have demonstrated that the 101 Freeway is a near-impenetrable barrier further to the west. It's unclear whether C-144 is crossing directly over the freeway or is finding alternative methods like bridges or underpasses.
C-145, captured later in May, is a male estimated to be between four and eight years of age with a home range in the Silver Lake neighborhood. He has made extensive use of both residential areas and the natural habitat in the area, but thus far has not crossed any of the freeways that surround the neighborhood.
Based on a limited analysis of GPS data for the two coyotes, researchers found that more than half of the recorded locations are in developed areas, such as along roads and in high-density residential areas. The remainder of the recorded locations were in landscapes defined as altered, such as vacant lots or parks. Whereas 77% of locations from the previous western Los Angeles County study were recorded in natural areas, defined as at least one square kilometer of natural vegetation, zero of C-144 and C-145's GPS points met that definition.
More detailed information about C-144 and C-145's landscape usage is available on "
Gridlocked,"
Santa Monica Mountains National Recreation Area's new urban wildlife blog.
Over time, researchers hope to learn more about how these animals are using the landscape, how much space they need and what kind of conflict, if any, they are having with humans.
Coyotes are medium-sized canids that inhabit most of North America. Coyotes in Southern California are often the subject of negative media attention, but serious coyote conflicts with humans are rare. In order to reduce the likelihood of a negative interaction with a coyote, residents should be careful not to feed wildlife, either intentionally or unintentionally. Learn more about co-existing with coyotes at
www.wildlife.ca.gov/Keep-Me-Wild/Coyote
. 
Since 1996, the National Park Service has been studying carnivores in and around the Santa Monica Mountains to determine how they survive in an increasingly fragmented and urbanized environment. During the course of the study, biologists have radio-tracked more than 300 bobcats, 140 coyotes and 40 mountain lions.
###
Last updated: August 1, 2019