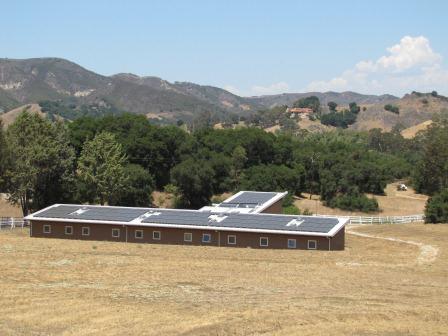 News Release Date:
October 4, 2012
Contact: Kate Kuykendall, 805-370-2334
Contact: Lindy Allen, 303-969-2588
CALABASAS, Calif. - The U.S. Department of Energy honored the National Park Service today with a 2012 Federal Energy and Water Management Award for a "net zero" dormitory in Calabasas. Completed in 2010, the Santa Monica Mountains National Recreation Area building is the first net zero facility built by the National Park Service.  
"This project is part of a service-wide effort to reduce our carbon footprint and lead the way in the sustainable management of public lands," said Lorenza Fong, acting superintendent for Santa Monica Mountains National Recreation Area. "We're very proud that this innovative project has been nationally recognized with this award." 
A net zero facility is one that is tied to the electrical grid, but produces enough energy to offset its use over the course of a year. The dorm, formally known as the Student Intern Center, is a 3,200 square-foot facility heated and cooled by a ground-source heat pump system, one of the most environmentally-efficient ways to provide space heating and cooling. A series of flexible piping loops are buried eight-feet deep, and use the ground's relatively constant 50-degree temperature for heating and cooling. In addition, solar panels on the roof provide hot water, and energy-efficient Light Emitting Diode (LED) lamps were used throughout the facility. 
A grid-tied 35 kW photo-voltaic system provides 100 percent of the energy needs for the dorm each year, as well as surplus energy for a nearby maintenance office. The facility provides critical housing for researchers and interns working at the park. 
In November of 2007, a wildfire destroyed 5, 651 square feet of building space in Malibu's Solstice Canyon, including the original Student Intern Center. Through American Recovery and Reinvestment Act funding, the facility was rebuilt near the intersection of Mulholland and Las Virgenes Road, in an area known as Diamond X Ranch. By consolidating activities into a smaller building footprint and relocating the facility into an area that is safer from fire damage, the park significantly reduced construction, maintenance and operational costs.
In June of this year, Santa Monica Mountains National Recreation Area opened its second net zero facility, the Anthony C. Beilenson Interagency Visitor Center at King Gillette Ranch, which is also located in the Calabasas area.  
About Santa Monica Mountains National Recreation Area: Santa Monica Mountains National Recreation Area (SMMNRA) is the largest urban national park in the country, encompassing more than 150,000 acres of mountains and coastline in Ventura and Los Angeles counties. A unit of the National Park Service, it comprises a seamless network of local, state, and federal parks interwoven with private lands and communities. As one of only five Mediterranean ecosystems in the world, SMMNRA preserves the rich biological diversity of more than 450 animal species and 26 distinct plant communities. For more information, visit www.nps.gov/samo.
About the Denver Service Center: The Denver Service Center is located in Lakewood, Colorado and collaborates with national parks and NPS regional staff on large-scale planning, design, and construction services. Find out more at www.nps.gov/dsc.
###