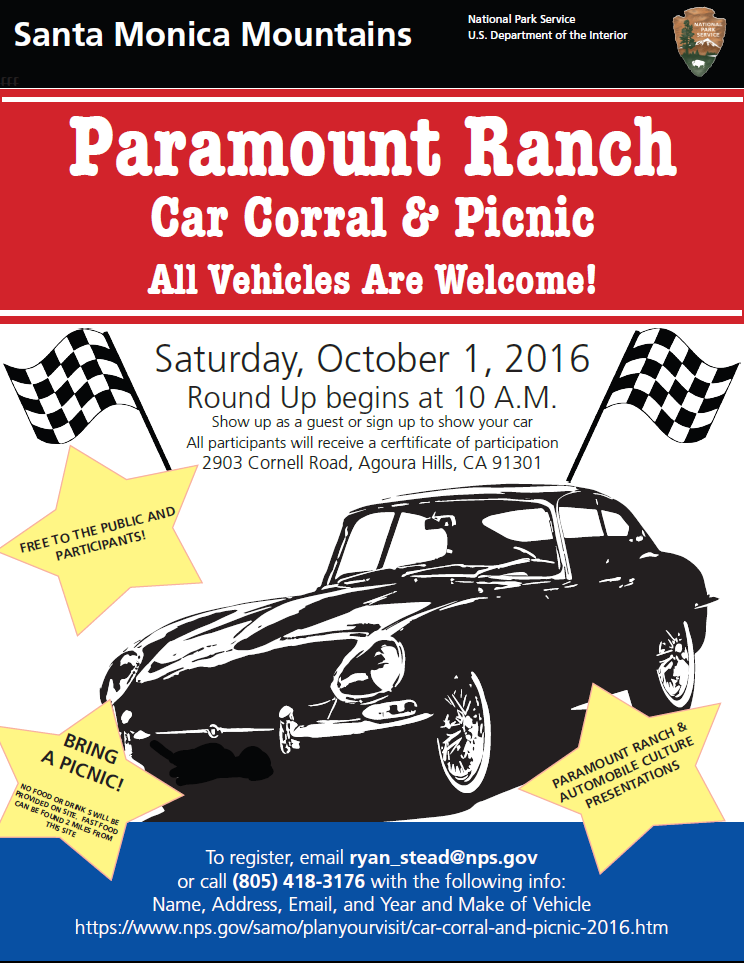 News Release Date:
September 14, 2016
Contact: Kate Kuykendall, 805-370-2343
THOUSAND OAKS, Calif. -- The National Park Service is looking for owners of classic cars to help celebrate an historic car racing site in the Santa Monica Mountains. The vehicles will be on display at the first-ever Car Corral & Picnic on Saturday, October 1 from 10:00 a.m. until 2:00 p.m. at Paramount Ranch in Agoura.

"Paramount Ranch is well-known for its role in movie history, but the public may not know it was a racetrack for a few years in the 1950s," said Ryan Stead, park ranger for Santa Monica Mountains National Recreation Area. "We'd like to share this exciting slice of history by inviting the public to come out to a roundup of classic cars and classic car culture."

Stead is seeking classic cars of all years, makes, and models for display in the historic Western Town area of Paramount Ranch. Anyone interested should email ryan_stead@nps.gov or call 805-418-3176 to provide vehicle information and RSVP.

The event is free and open to the public. In addition to viewing classic cars, participants are welcome to attend programs such as a site tour, a film presentation, and talks on local history and the classic racing film, Devil's Hairpin. Stead also encourages visitors to bring a photo of their first or favorite car to display at the event.

A shaded picnic area will be on site for anyone who would like to bring their own picnic and enjoy the day. No food vendors will be on site. 

In 1927, Paramount Pictures purchased 2,700 acres of the old Rancho Las Virgenes for use as a "movie ranch." For 25 years, a veritable who's who of Hollywood practiced their craft at Paramount Ranch including director Cecil B. Demille and actors Bob Hope, Gary Cooper and Claudette Colbert. A portion of the old movie ranch was purchased by the National Park Service in 1980 and continues to function as a working movie ranch.

Less known is the history of the Paramount Racetrack. The track operated from 1956 to 1957 and was known as one of the most challenging in the nation. It closed after only 18 months and three fatal accidents, but most of the track still winds through the grasslands of the park.

Paramount Ranch is located at 2903 Cornell Road in Agoura.

Santa Monica Mountains National Recreation Area (SMMNRA) is the largest urban national park in the country, encompassing more than 150,000 acres of mountains and coastline in Ventura and Los Angeles counties. A unit of the National Park Service, it comprises a seamless network of local, state and federal parks interwoven with private lands and communities. As one of only five Mediterranean ecosystems in the world, SMMNRA preserves the rich biological diversity of more than 450 animal species and 26 distinct plant communities. For more information, visit www.nps.gov/samo.