National Park Foundation Grant Brings Local Students to Santa Monica Mountains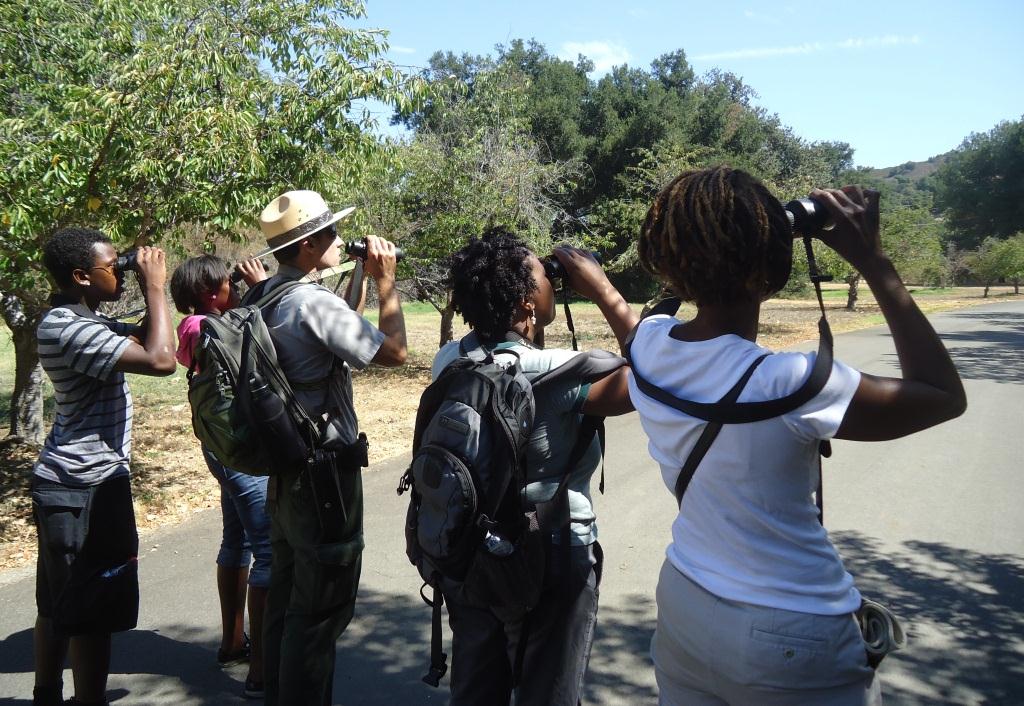 News Release Date:
September 11, 2012
Contact: Kate Kuykendall, 805-370-2343
THOUSAND OAKS, Calif. - Santa Monica Mountains National Recreation Area (SMMNRA) was recently selected to receive nearly $7,000 in transportation funding from the National Park Foundation (NPF). The grant will provide funding for approximately 700 students and family members to experience a ranger-led program in the Santa Monica Mountains. Nationwide, more than $230,000 in Ticket to Ride grants will make it possible for more than 30,000 students to visit their local national park this fall. 
"Our park is unique in that we're in the backyard of millions of Southern Californians, but of course not all local residents have the resources or ability to come and visit us," said Lorenza Fong, acting superintendent for Santa Monica Mountains National Recreation Area. "This grant provides bus transportation for residents in park-poor communities to experience the beauty and recreational value of the Santa Monica Mountains." 
With support from Disney, NPF's Ticket to Ride program funds transportation, in-park educational programming and meals that make national park field trips possible for schools across the country. As part of the new program, SMMNRA hosted community groups from Compton and East Los Angeles over the weekend. The group of approximately 25 first-time visitors took part in a birding hike, a "Let's Move" obstacle course and a ranger-led tour of the new visitor center. 
"Providing the means for America's youth to experience all that our national park system has to offer is imperative," said Neil Mulholland, President and CEO of the National Park Foundation. "The Ticket to Ride program makes it possible for us to engage the younger generation through the parks' unique natural, cultural and historical classrooms, ultimately fostering an early love and appreciation for these important places." 
For many students, the Ticket to Ride field trip will be their first visit to a national park. Recognizing that once in the parks, a world of experiential learning opens up, the National Park Foundation and the National Park Service are dedicated to providing this critical access to the parks. Through these field trips, young people discover their natural, cultural and historical heritage, participate in volunteer and service-learning activities, enjoy recreational opportunities and most importantly, begin a lifelong relationship with their national parks.  
For more information about the Ticket to Ride program, our corporate partners and ways to support this and the other exceptional National Park Foundation programs, go to www.nationalparks.org.
About the National Park Foundation:
You are the owner of 84 million acres of the world's most treasured memorials, landscapes, ecosystems, and historic sites -- all protected in America's nearly 400 national parks. Chartered by Congress, the National Park Foundation is the official charity of America's national parks. We work hand in hand with the National Park Service to connect you and all Americans to the parks, and to make sure that they are preserved for the generations who will follow. Join us in supporting your national parks - this is your land. www.nationalparks.org.  
About Santa Monica Mountains National Recreation Area:
Santa Monica Mountains National Recreation Area (SMMNRA) is the largest urban national park in the country, encompassing more than 150,000 acres of mountains and coastline in Ventura and Los Angeles counties. A unit of the National Park Service, it comprises a seamless network of local, state, and federal parks interwoven with private lands and communities. As one of only five Mediterranean ecosystems in the world, SMMNRA preserves the rich biological diversity of more than 450 animal species and 26 distinct plant communities. For more information, visit www.nps.gov/samo.
###
Last updated: March 1, 2015