Mountain Lion Kittens Born in Santa Monica Mountains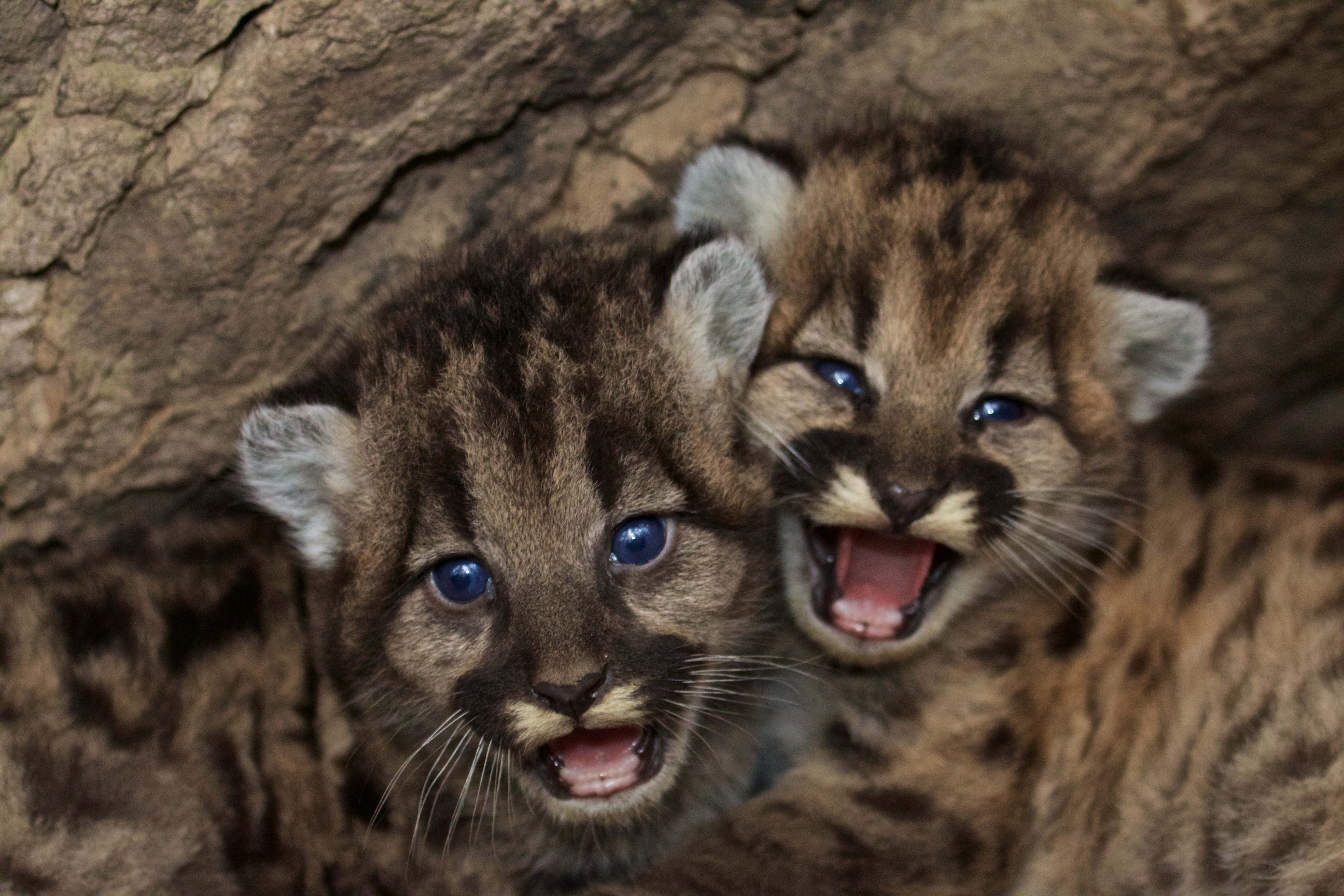 News Release Date:
January 14, 2016
Contact: Kate Kuykendall, 805-370-2343
THOUSAND OAKS, Calif. -- Biologists from the National Park Service recently discovered two mountain lion kittens in the western end of the Santa Monica Mountains. The female and male kittens, now known as P-46 and P-47, were implanted with tracking devices after researchers located their den in a remote area.
"We continue to see successful reproduction, which indicates that the quality of the natural habitat is high for such a relatively urbanized area," said Jeff Sikich, a biologist for Santa Monica Mountains National Recreation Area. "But these kittens have many challenges ahead of them, from evading other mountain lions, to crossing freeways, to dealing with exposure to rat poison." 
Sikich suspected that P-19, the mother, may have given birth based upon the way her GPS locations were localized during a three-week period, indicating that she was likely denning with her kittens. The den was well-hidden among large boulders and thick brush. 
Researchers have been tracking the mother since 2010, when she was only a few weeks old. Her previous two litters were the result of inbreeding with her father, P-12, but the last known evidence of P-12 dates back to March of 2015. DNA testing is underway to identify whether the father is P-12 or perhaps P-45, a newly discovered adult male. 
Inbreeding is a significant threat to the long-term survival of mountain lions in the Santa Monica Mountains because the population is essentially trapped on an island of habitat. A proposed wildlife crossing over the 101 Freeway in Agoura Hills would connect large swaths of natural land from the Santa Monica Mountains to the Sierra Madres.
This is the ninth litter of kittens marked by National Park Service biologists at a den site. Two additional litters of kittens were discovered when the kittens were already at least six months old. 
Since 2002, the National Park Service has been studying mountains lions in and around the Santa Monica Mountains to determine how they survive in an increasingly fragmented and urbanized environment. Funding for mountain lion research in the Santa Monica Mountains is provided in part through private donations to the Santa Monica Mountains Fund.
Santa Monica Mountains National Recreation Area (SMMNRA) is the largest urban national park in the country, encompassing more than 150,000 acres of mountains and coastline in Ventura and Los Angeles counties. A unit of the National Park Service, it comprises a seamless network of local, state and federal parks interwoven with private lands and communities. As one of only five Mediterranean ecosystems in the world, SMMNRA preserves the rich biological diversity of more than 450 animal species and 26 distinct plant communities. Visit www.nps.gov/samo.
###
Last updated: November 1, 2018