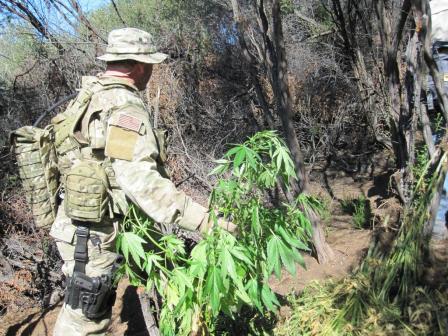 News Release Date:
July 19, 2011
Contact: Lauren Newman, 805-370-2343
(Santa Monica Mountains, CA) Park Rangers seized over 3500 marijuana plants across a 9.6 acre area of park land in the heart of Santa Monica Mountains National Recreation Area this month. National Park Service, Mountains Recreation and Conservation Authority and California State Park officials discovered the marijuana grow site in late June, and have worked for the past two weeks to haul out nearly a ton of trash and marijuana plants and begin restoring the site back to natural conditions.
Herbicides, pesticides, rodent fencing, two miles of plastic water hose, and fertilizer were all found at the site. Water was being diverted from a nearby creek to irrigate the plants, and native vegetation had been cut down to make room for the grow sites. These findings are consistent with other marijuana grow sites found on public park lands throughout the Santa Monica Mountains, including diverting water resources, altering topography, and introducing garbage, biohazards, and chemicals into park lands and watersheds.
"Marijuana cultivation is a serious and rising problem in the Santa Monica Mountains and other park lands across the country," said park superintendent Woody Smeck. "The environmental damage caused by marijuana cultivation in otherwise pristine natural areas costs approximately $12,000 per acre to clean up."
In 2009, the National Park Service received additional funding from a bill introduced by Senator Diane Feinstein to combat illegal marijuana grows on park lands. The new funding significantly increases the park's capacity to deny marijuana growers access to park lands in the Santa Monica Mountains.
Marijuana plantations often occur in remote and hard to access park locations, away from designated trails and other places frequented by the public. Therefore, hikers and bikers are encouraged to stay on designated trails. The public can help by reporting any suspicious activity to local law enforcement officials. Suspicious activity includes drip irrigation lines lying next to or in streams, collections of supplies and food left at roadside pull-outs, and piles of seedling cartons, food cartons, propane tanks, and camping equipment in unusual locations.
The marijuana growing season is approximately April through November. Park rangers will conduct regular patrols of remote parkland throughout the summer and fall to curtail growing efforts and prevent unchecked damage to the environment.
About Santa Monica Mountains National Recreation Area
Established in 1978, Santa Monica Mountains National Recreation Area is the largest urban-adjacent national recreation area in the country. It is jointly managed by California State Parks, Mountains Recreation and Conservation Authority, Santa Monica Mountains Conservancy, and the National Park Service. The park exists to conserve the best remaining example of an ever-rarer Mediterranean ecosystem, as well as its associated natural, cultural, scenic and historic resources, and to provide a quality National Park experience for the diverse peoples of Southern California.