Local Youth Complete Summer Jobs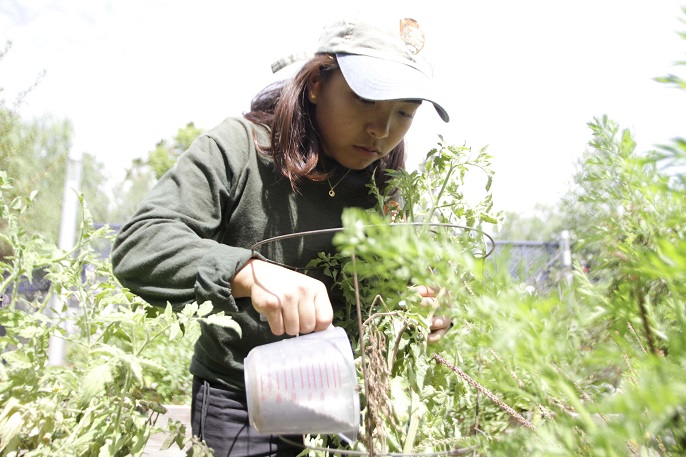 News Release Date:
August 19, 2015
Contact: Kate Kuykendall, 805-370-2343
Contact: Kea Duggan (LACC), 213-362-9000, ext. 215
LOS ANGELES, Calif. -- A National Park Service program designed to introduce inner-city youth to environmental careers wrapped up its 16th season this week. A new partnership with the Los Angeles Conservation Corps helped organizers double the size of this year's cohort.
"You can't help but be inspired by the commitment to public service among young adults in this program," said David Szymanski, Superintendent of Santa Monica Mountains National Recreation Area, a unit of the National Park Service. "They are our neighbors and future leaders in their communities."
Nearly 150 high-school age youth have completed the intensive summer employment program since it started in 2000. This year's cohort consisted of 22 young adults from Los Angeles and Ventura Counties. Approximately one in 10 applicants are selected for the highly competitive program.
"Partnerships like this are so vital to realizing our organization's mission," said Wendy Butts, Chief Executive Officer for the Los Angeles Conservation Corps. "Our youth not only receive valuable work experience and marketable skills that they can use as they move into the working world, but they also learn how their hard work impacts the community and lives of those around them."
The Los Angeles Conservation Corps helped identify work projects and contributed transportation and meaningful supervision. Graduates of the summer program earned 320 hours towards their Public Land Corps certificate, which helps with eligibility for federal jobs.
Participants gain experience in a wide range of fields, from habitat restoration to visitor services to wildlife biology. This summer they built 100 feet of pole-craft fencing, restored 50 acres of habitat, assisted 8,000 visitors in the park and analyzed 13,000 photos from remote wildlife cameras for the park's scientific research program.
In addition to projects in the Santa Monica Mountains National Recreation Area, the young adults also contributed to improvements in their own communities, as well as a week-long work trip to Channel Islands National Park.
The School of Education at UC Davis recently completed an extensive evaluation of the park's youth employment program. More than 90% of survey respondents said they were considering careers with the National Park Service. Although many program participants are still completing their schooling, one-third of respondents reported having worked for another national park unit after the summer program completed.
Despite the fact that 87% of the respondents had "never or seldom" participated in similar outdoor recreational activities, 90% of all respondents reported bringing family and friends back to the Santa Monica Mountains or other national park units.
The LA Conservation Corps is the nation's largest urban conservation corps. We employ young people between the ages of 18-24 from LA's most poverty-stricken communities in our environmental job skills training program, and enroll those without diplomas in our affiliated charter school. Corpsmembers build parks and community gardens, plant trees, recycle tons of waste, remove graffiti, clear forest trails and deliver energy efficient messages to LA residents for local utilities. Select corpsmembers intern at our SEA Lab, a marine science education and marine animal rescue facility in Redondo Beach. Each day, as they heal their own communities and beyond, our young environmental stewards learn they have much to offer the world and are inspired to attain their academic and career goals.
Santa Monica Mountains National Recreation Area (SMMNRA) is the largest urban national park in the country, encompassing more than 150,000 acres of mountains and coastline in Ventura and Los Angeles counties. A unit of the National Park Service, it comprises a seamless network of local, state and federal parks interwoven with private lands and communities. As one of only five Mediterranean ecosystems in the world, SMMNRA preserves the rich biological diversity of more than 450 animal species and 26 distinct plant communities. For more information, visit www.nps.gov/samo.
###
Last updated: August 20, 2015