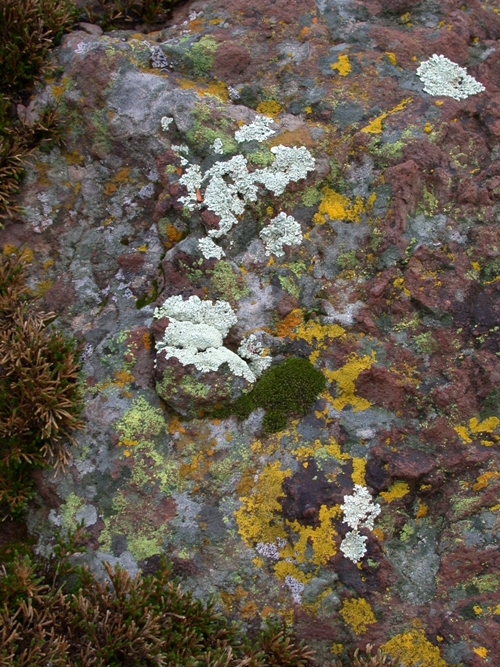 News Release Date:
November 13, 2009
(Thousand Oaks, CA) On Saturday, November 21 at 2 pm at the Santa Monica Mountains National Recreation Area Visitor Center, expert lichenologist Kerry Knudsen will unveil his latest scientific discoveries from the Santa Monica Mountains and Channel Islands National Park.  Knudsen has been highlighted in Los Angeles Times articles about lichens, and recently received international attention for discovering a new species of lichen at Channel Islands National Park, and naming it Caloplaca obamae after President Obama.
Kerry Knudsen is not the first lichenologist to devote himself to research in the Santa Monica Mountains and Channel Islands.  In 1895, a doctor named Herman Hasse began exploring the mountains around his home in west Los Angeles while working at the Veterans Hospital, and started documenting the many lichen species he found.  Over 100 years later, Knudsen has picked up that work, and recently returned from a research trip to Harvard University where Hasse's journals and samples are now archived. 
Knudsen will uncover his most recent findings and draw connections between the species that existed in the late 19th century, those that remain, and those that seem to have vanished today.  Of his recent trip, Knudsen said "I verified 70 taxa that have not been collected since 1915, for a total of 86 taxa known only from historical record."  He plans to search through the Santa Monica Mountains to see if he can find any of these lichens, but expects that at least some will be exceptionally rare or have possibly disappeared from the mountains entirely.
Lichens are a combination of fungus and alga, and are seen on rocks, trees, and fences throughout the region.  They are extremely susceptible to air pollution, and some scientists regard them as an indicator species for air quality and climate change.
Amateur lichenologists and botany enthusiasts who enjoy identifying lichen species in the Santa Monica Mountains will come away from the lecture with enhanced scientific knowledge, and discover new meaning in the beautiful and colorful lichens that occupy small corners of the mountains.  Knudsen's lichen chronicles are sure to delight the audience, and his tales of discovery and quest for buried archives and forgotten species will thrill listeners.