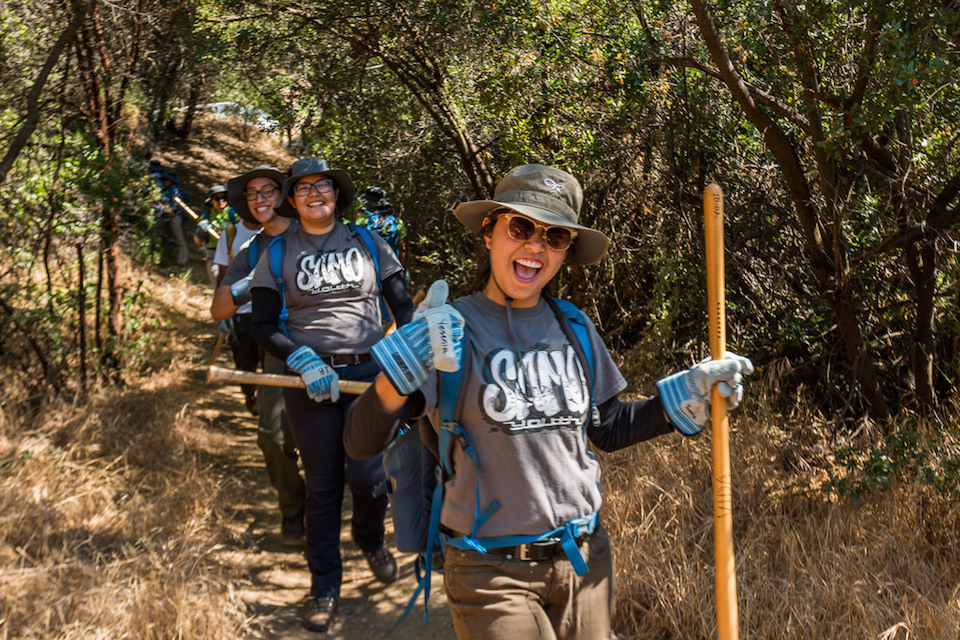 News Release Date:
July 25, 2017
Contact: Zach Behrens, 805-370-2385
As far as outdoor summer jobs go, this one could take the cake. Twenty two high school and college-bound students are working with the National Park Service in the L.A. area this summer as part of a program called SAMO Youth. After weeks of trail and restoration work in Santa Monica Mountains National Recreation Area and Channel Islands National Park, their upcoming work includes outdoor projects in neighborhoods.

In Los Angeles, the group will work at La Plaza de Culturas y Artes, a cultural museum in downtown Los Angeles (7/27-7/28); in the new garden at Garfield High School, a product of a SAMO Youth alumnus (7/29); and on the campus of California State University, Northridge (8/5). In Ventura, they will work with the Ventura Hillsides Conservancy (8/1).

"The National Park Service has long tapped the best and brightest from our communities," noted  Antonio Solorio, program manager for the National Park Service's SAMO Youth program. "Engaging these students is key to preserving these lands for younger and more diverse audiences."

Started in 2000, about 175 high school and college students from inner-city L.A. and Oxnard have graduated from the SAMO Youth program. This year's participants were selected from more than 100 applicants. The small size of the cohort allows the National Park Service to provide one-on-one mentoring and more in-depth exposure to a variety of careers within the agency.

An extensive evaluation of the program by the School of Education at UC Davis found that, although most participants attended "high needs" high schools, 95% of the respondents reported attending college after program completion. Graduates have gone on to work at more than 17 national parks throughout the country.

The program is supported through a partnership with the Santa Monica Mountains Fund, the nonprofit friends group for Santa Monica Mountains National Recreation Area. Significant financial support is also provided by the National Park Foundation and the Annenberg Foundation.