Inner-City Youths Begin Summer Employment with National Park Service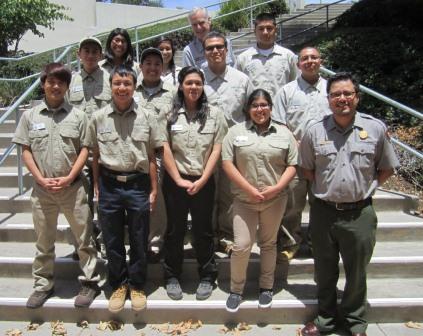 News Release Date:
July 16, 2012
Contact: Kate Kuykendall, 805-370-2343
THOUSAND OAKS, Calif. - Eleven local high school students recently began work in the Santa Monica Mountains, part of a National Park Service program to prepare ethnically diverse youth for careers with the agency. In addition to providing paid summer employment, the highly selective SAMO Youth program introduces high school juniors and seniors to environmental careers through specialized training in the outdoors. 
"The key to preserving our natural parks for generations to come is to engage a younger and more diverse audience," said Antonio Solorio, program manager for the National Park Service's SAMO Youth program. "These youngsters will become the next generation of stewards and can share the transformative effect of the outdoors with their communities." 
Santa Monica Mountains National Recreation Area, a unit of the National Park Service, provides transportation for the students, delivering them to their work sites at 7:00 a.m., five days per week. The grueling work includes habitat restoration, trail maintenance, scientific surveys and answering visitor questions. The six-week-long program also includes a week-long work trip to Channel Islands National Park. 
Started in 2000, more than 150 high school and college students have graduated from the SAMO Youth program. This year's participants were selected from more than 120 applicants from Los Angeles and Oxnard high schools. The small size of the cohort allows the National Park Service to provide one-on-one mentoring and more in-depth exposure to a variety of careers within the agency. Graduates of the program have gone on to work at more than 10 national parks throughout the country.  
Santa Monica Mountains National Recreation Area (SMMNRA) is the largest urban national park in the country, encompassing more than 150,000 acres of mountains and coastline in Ventura and Los Angeles counties. It comprises a seamless network of local, state, and federal parks interwoven with private lands and communities. As one of only five Mediterranean ecosystems in the world, SMMNRA preserves the rich biological diversity of more than 450 animal species and 26 distinct plant communities.   
###
Last updated: March 1, 2015