Hikers Find Dead Mountain Lion in Santa Monica Mountains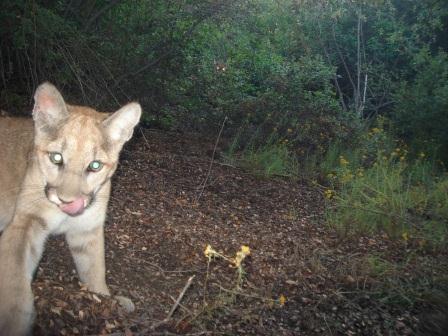 News Release Date:
October 24, 2012
Contact: Kate Kuykendall, 805-370-2343
Contact: Dr. Seth Riley, 805-370-2358
THOUSAND OAKS, Calif. - Hikers reported a dead mountain lion near Newbury Park in Point Mugu State Park on Sunday. A National Park Service biologist identified the carcass as Puma-25, a female lion approximately one year old, and transferred the remains to the California Animal Health and Food Safety Laboratory for necropsy.  
"Mountain lions in the Santa Monica Mountains face a number of challenges to survive," said Dr. Seth Riley, an expert on urban wildlife with Santa Monica Mountains National Recreation Area (SMMNRA). "In addition to conflicts with other lions over territory, lions here have to contend with road mortalities, rodenticide poisoning and occasionally disease." 
Although the results of the necropsy will not be available for a few weeks, the death did not appear to be the result of a conflict with another lion. The carcass showed some signs of decomposition. Biologists suspect the lion had been dead for about one week. 
P-25, as the animal is also known, was first discovered in remote camera photographs as one of two kittens. Along with her brother, P-26, the lion was the offspring of P-12 and P-13 and was fitted with an expandable GPS collar in August. Expandable collars are designed to grow with the lion, but when P-25's collar recently came off, researchers were only able to track her by monitoring the location of her mother and brother, who she was presumed to be traveling with. 
A small group of hikers noticed a bad odor on Sunday and hiked a short distance from the trail to investigate. They discovered the dead mountain lion and reported it to a National Park Service ranger at Satwiwa Native American Culture Center in Newbury Park. 
Biologists from SMMNRA, a unit of the National Park Service, are currently tracking eight mountain lions as part of a decade-long study to better understand how the animals survive in such an urbanized landscape. Among the 26 mountain lions tracked during the course of the study, the number one cause of death has been conflict with other mountain lions, followed by an equal number of deaths from rodenticide poisoning and vehicle collisions.
Santa Monica Mountains National Recreation Area (SMMNRA) is the largest urban national park in the country, encompassing more than 150,000 acres of mountains and coastline in Ventura and Los Angeles counties. It comprises a seamless network of local, state, and federal parks interwoven with private lands and communities. As one of only five Mediterranean ecosystems in the world, SMMNRA preserves the rich biological diversity of more than 450 animal species and 26 distinct plant communities. Learn more at www.nps.gov/samo.    
###
Last updated: November 1, 2018