Griffith Park Mountain Lion Appears Healthy, Recovered from Mange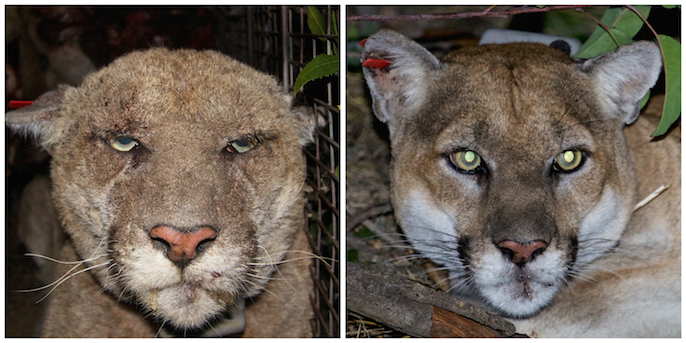 News Release Date:
January 7, 2016
Contact: Kate Kuykendall, 805-370-2343
THOUSAND OAKS, Calif. -- National Park Service (NPS) researchers recently recaptured the Griffith Park mountain lion known as P-22 and reported that he appears healthy and has recovered from a serious bout with mange.
"He's gained some weight, his tail has filled out, and he no longer has skin lesions and scabs across his body and face," said Jeff Sikich, a biologist with Santa Monica Mountains National Recreation Area. "It's highly likely that he continues to be exposed to rat poison, but for now he seems to be managing."
Though trail cameras had picked up images that appeared to show him doing well, this is the first time biologists have examined him up close since they captured him in April of 2014, when he was thinner and suffering from mange. As in 2014, biologists re-captured the animal to replace the battery in his GPS collar.
Now approximately six years old, P-22 weighed 123 pounds, about 15 pounds heavier than at his last capture.
Researchers believe the mange, a parasitic disease of the hair and skin, may have been related to exposure to anticoagulant rodenticides, commonly known as rat poisons. The connection between the two is still not fully understood, but previous NPS research found that bobcats that have ingested rat poison are much more likely to suffer from severe mange.
A blood sample taken from P-22 at his April 2014 capture tested positive for exposure to diphacinone and chlorophacinone, two first-generation poisons.The retail sale of second-generation poisons was banned as of July 1, 2014, but they are still used by licensed applicators, and first-generation versions, like those found in P-22's blood, remain widely available.
NPS researchers treated P-22 with selamectin, a topical treatment for ectoparasitic diseases such as mange, fleas, and ticks, in April of 2014.
Since they began studying local mountain lions in 2002, NPS researchers have documented exposure to rat poison in 12 of 13 mountain lions tested.
After being detected by biologists with the Griffith Park Connectivity Study, P-22 was captured by NPS biologists and outfitted with a GPS collar in March of 2012. Genetic testing from UCLA and UC Davis revealed that he was likely born in the Santa Monica Mountains and therefore would have had to cross both the 405 and 101 Freeways to make it to Griffith Park.
His image famously appeared in the December 2013 issue of National Geographic Magazine, with the Hollywood sign as the backdrop.
Since 2002, the National Park Service has been studying mountains lions in and around the Santa Monica Mountains to determine how they survive in an increasingly fragmented and urbanized environment. Funding for mountain lion research in the Santa Monica Mountains is provided in part through private donations to the Santa Monica Mountains Fund.

Santa Monica Mountains National Recreation Area (SMMNRA) is the largest urban national park in the country, encompassing more than 150,000 acres of mountains and coastline in Ventura and Los Angeles counties. A unit of the National Park Service, it comprises a seamless network of local, state and federal parks interwoven with private lands and communities. As one of only five Mediterranean ecosystems in the world, SMMNRA preserves the rich biological diversity of more than 450 animal species and 26 distinct plant communities. Visit www.nps.gov/samo.
Last updated: August 1, 2019