Drought Uncovers New Facts About West Coast Toads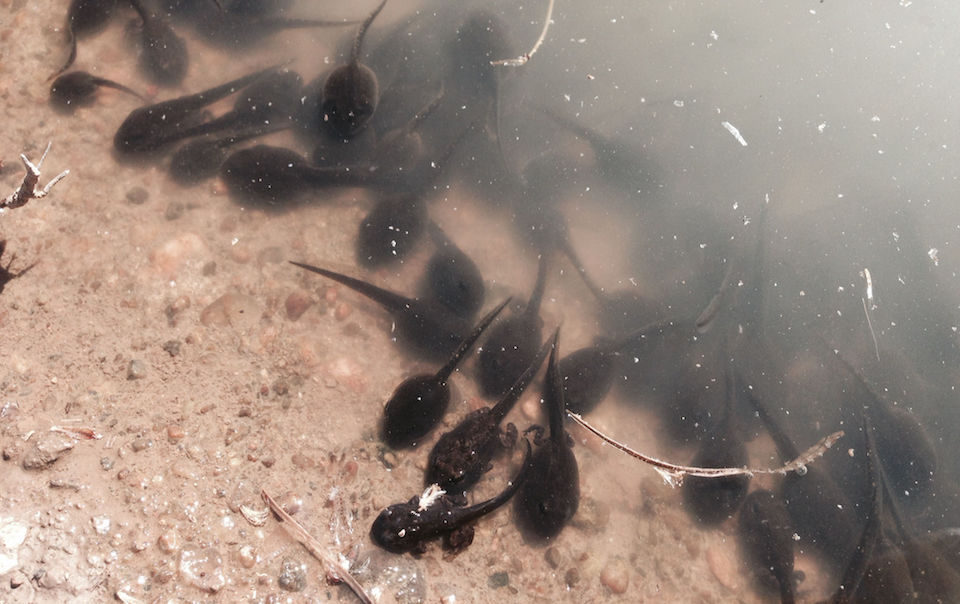 News Release Date:
August 25, 2017
Contact: Zach Behrens, 805-370-2385
The prolonged drought in California had at least one silver lining for researchers studying wildlife in the Santa Monica Mountains. Native western toads were found to be breeding in September, the latest ever known observation for the species, which has a breeding season that typically begins in late January. Western toads need pools of water to breed and without winter rains, it wasn't until an unusual summer rain event, caused by Eastern Pacific Hurricane Linda, that the toads in this particular spot bred.

The finding, which adds previously unknown information about the species, was published today in the journal Bulletin of the Southern California Academy of Sciences. It was authored by researchers at the Natural History Museum of Los Angeles County (NHMLA) and Santa Monica Mountains National Recreation Area, a unit of the National Park Service.

The discovery was made in November 2015 when Katy Delaney, a wildlife ecologist with the recreation area, observed what looked like Western toad tadpoles in a seasonal pond in Los Robles Open Space in Thousand Oaks. "It was a strange sighting," noted Delaney. "I thought to myself, 'It's the completely wrong time of year for this.'"

Delaney submitted the observation through the iNaturalist mobile app to the Associate Curator of Herpetology at NHMLA, Greg Pauly, who runs a reptile and amphibian citizen science project on the app (everybody, regardless of scientific background, is welcome to participate!). Pauly agreed the observation was unusual and began researching.

"To the best of my knowledge, this is the latest observation of Western toads breeding." explained Pauly, noting that tadpoles found in November meant breeding likely occurred two months earlier in September when the remnants of a hurricane dropped one to two inches of rain across much of the Los Angeles area. "Western toads are a relatively common species, but we still lack a basic understanding of their biology. This goes to show how much we still have to learn about even the common species that surround us."

Evidence of breeding was not observed again until this past winter, when a spell of winter storms interrupted a five-year drought. Western toad breeding was explosive and an abundance of toadlets have been seen throughout freshwater areas of the Santa Monica Mountains. "They're everywhere, and I mean everywhere," said Delaney, who monitors mountain streams.

Western toads (Bufo boreas) are a wide-ranging amphibian species found from Baja California to Alaska and from sea level to around 12,000 feet in elevation. Across much of this range, Western toads have declined in recent decades. Breeding activity normally occurs as soon as ponds form, which could be in late January in Southern California or early summer at higher elevations. It is now known, however, that individuals can also breed much later in the year with appropriate weather conditions.
Last updated: August 28, 2017