After Heavy Rains, Park Needs Help Eradicating "Super Bloom" of Weeds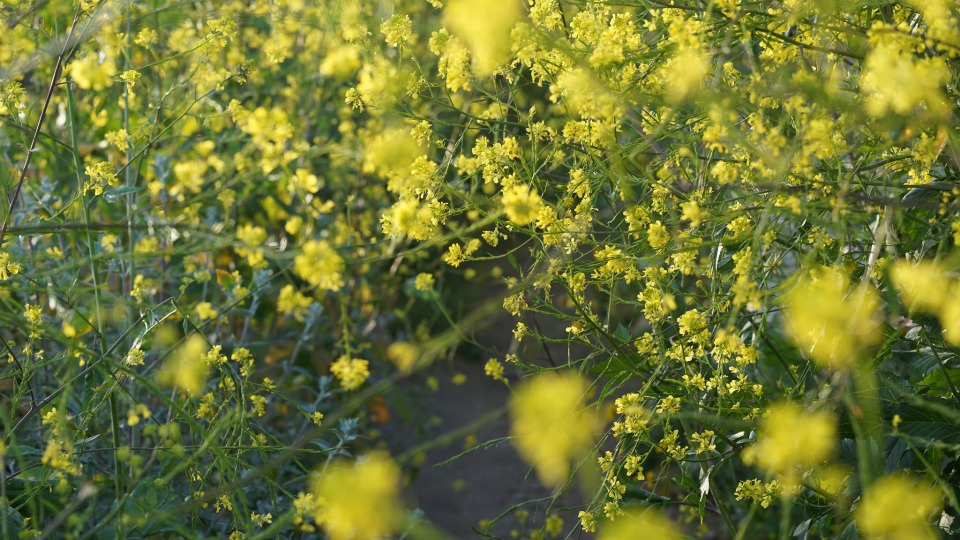 News Release Date:
April 18, 2017
Contact: Zach Behrens, 805-370-2385
Thousand Oaks, CA - As the rich display of native wildflowers fades, a new "super bloom" has begun to dominate many hillsides throughout the Santa Monica Mountains: invasive plants. It's an ongoing problem that this year's heavy rains have only exacerbated. But it's also an opportunity for long lasting change if park rangers and the community together attack the problem head on, making areas more fire safe and enjoyable for visitors.

For example, trails in Zuma and Trancas Canyons have been overrun by a spectacular display of bright yellow flowers called black mustard (Brassica nigra), making them difficult to pass for hikers and mountain bike riders. At Solstice Canyon, carnation spurge (Euphorbia terracina), a toxic relative of the holiday favorite poinsettia plant, continues to aggressively push out native plants in a sensitive riparian area. Areas at both of these sites, which are in Malibu, are habitat restoration targets for the National Park Service, with spurge as the main focus.

"There are over 300 non-native species in the Santa Monica Mountains, but a core group of them are what we consider the 'evil 25,'" says Joey Algiers, restoration ecologist for Santa Monica Mountains National Recreation Area. "Native plants are the foundation of our ecosystem that supports a diversity of wildlife, all the way up to mountain lions. Besides that, the spring crop of weeds will soon dry out and become a fire hazard, creating a large load of fine fuels that are dry longer, ignite quickly, and spread flames faster than native shrubs."

That said, Algiers and a crew will be hosting volunteer days twice a month on Saturday mornings for the next two months. Individuals and groups, from boy and girl scout troops to corporations looking to give back, can participate in the restoration process, which can include pulling weeds and planting natives.

The dates for the volunteer days are May 6, May 20, June 3, and June 17. All four events will run between 9 a.m. and 12 p.m. at Bonsall Drive parking lot at Zuma and Trancas Canyons. To sign up or get more info, email Algiers at e-mail us or call him at 805-370-2393.
Last updated: April 18, 2017